I love good food but that doesn't mean i'm obsessed with fine-dining and Michelin stars. I'm just as excited by simple food cooked properly using high quality ingredients. When looking for a place to stop at for lunch somewhere on the route back from Etrop Grange I somehow came across Chorlton Green Brasserie.
It only opened in October 2012 but they promise "great quality food made from locally produced, artisan ingredients, which are sustainably sourced and wherever possible organic" which sounded perfect to me.
It's a very small place with a handfull of tables, understated modern and arty decor. We were seated facing the kitchen which isn't a fully open kitchen but contains a serving hatch which gave us a decent view of the chef inside. He was filleting fish when we arrived!
For once we were not particularly hungry after a huge tasting menu the previous night so not only did we not order starters but we both went for very light main courses too. I drank lots of coffee whilst Mrs Food Geek had a nice pot of Earl Grey from their excellent tea selection which was apparently very good. I particularly liked the tea pot.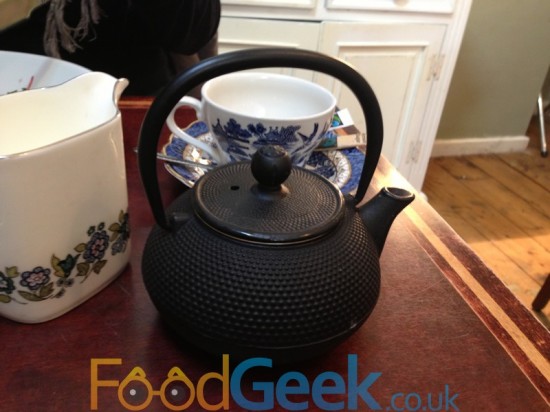 It was fortunate that we weren't hungry as we waited quite a long time for our food to arrive, when it finally did both dishes looked good. I had the 'Potted Crab Custard' served with a celeriac & red chard salad and warm crusty bread.
I really liked the long thin plate but it wasn't particularly easy to eat from. I'm also not a big fan of eating out of jars though I know it's the done thing for potted food.
The potted crab was gorgeous to eat, somehow rich and packed with flavour but incredibly light at the same time and the layer of custard on the top was unusual but amazing. The bread wasn't warm as the menu stated and also the pieces were really too small to do anything with which was a shame. It really did taste good though,
Mrs FG went for the 'Roasted Beetroot Salad' which was a good size and looked very appetising. The beetroot was warm and deliciously sweet, sat on a bed of red chard with little pieces of chargrilled butternut squash and quinoa (which I now know is pronounced keen-wah, thanks to Jamie Oliver) with a shallot dressing. A really tasty and warming winter salad.
I wasn't particularly hungry and one of my new year resolutions is to only eat desserts if they're really exciting if i'm not hungry. I consider treacle tart to be exciting, especially when served with cinnamon custard as it was here so I just couldn't resist.
It was very slow in coming out, at least 30minutes after we finished our main course but it was definitely worth the wait. The tart itself wasn't the best i've ever had (that honour still belongs to Aumbry) but it was very nice, soft and crumbly pastry with a delicious sticky and sweet filling. The custard was brilliant, warm and thick with loads of cinnamon flavour that complimented the tart perfectly. A very enjoyable dessert.
I really liked Chorlton Green Brasserie, the food is interesting and of a good standard. It's lucky that I was there for a relaxed Saturday lunch though as it took far to long for 2 courses. I'll definitely be back next time i'm in the area though, hopefully the service is a little faster.
Date of visit: 02.02.2013
Follow @FoodGeekUK