Sometimes you go back to a restaurant you loved and leave disappointed. It just can't live up to your memories. But others seem to get better and better with every visit.
The Lord Clyde in Kerridge, Cheshire is very much the latter.
I first ate owner/head chef Ernst's food when he was at the Etrop Grange hotel in 2013. It looked amazing but the unusual flavour combinations divided people back then. I really liked it, though.
As much as I enjoyed Ernst's cooking at Etrop, he'd stepped it up several levels by the time I visited his own place, The Lord Clyde, in early 2014.
I expected more of the same when I returned this summer but found the food was even better than before.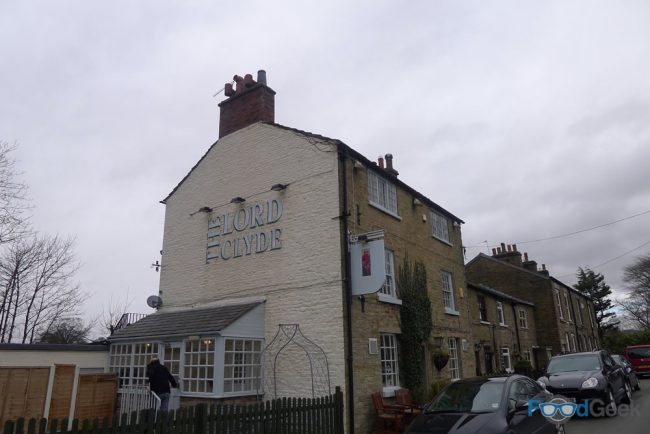 From both the outside and inside it feels much more like a pub than a restaurant. Because that's exactly what it is. In everything except the food. It's warm, cosy and welcoming.
There's literally nothing pub like about the food though. There's a full a la carte menu available but we only had eyes for the tasting menu.
A number of bite-sized snacks kicked things off.
Small and delicate but each offering a burst of interesting flavours and textures. From aerated beetroot macarons filled with Blackstick's Blue cheese to tuna and salmon roe on sesame crackers.
My favourite was the avocado & chicken liver on hazelnut biscuit.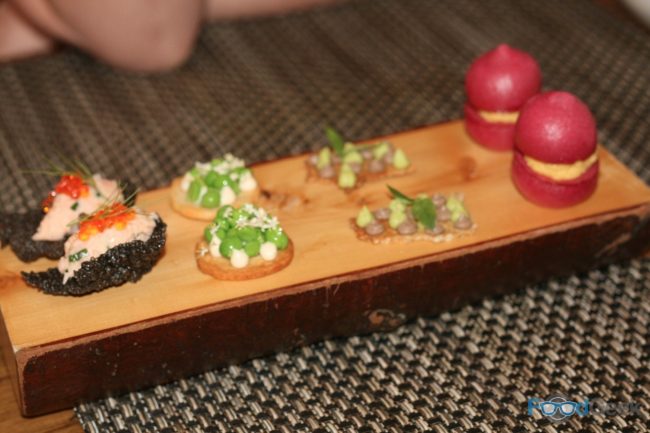 There was also radish – proudly grown in their own garden outside – with chorizo mayo and pea salt.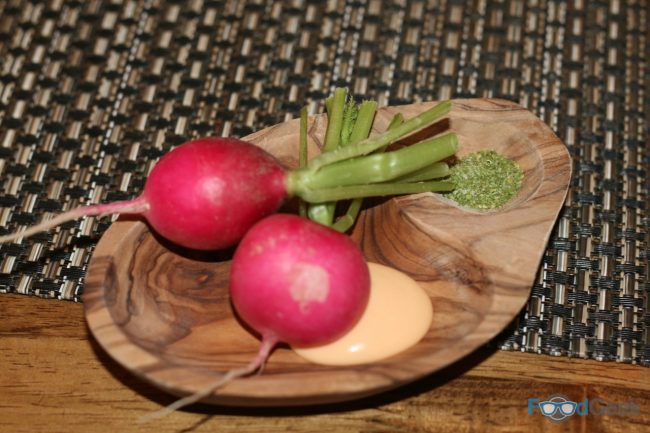 One of the things I look forward to most about eating Ernie's food is his amazing bread. They now even mill their own flour.
The large sourdough loaf I fell in love with at Etrop has been replaced by dainty individual loaves. Made with their own elderflower starter and served with amazing beef dripping and smoked butter.
The first proper course 'Lobster' was as pretty as I'd come to expect from The Lord Clyde.
A beautifully cooked piece of lobster is served with peas, a tried and tested combination. The blueberries and homemade cheese not so much. But it really works. The fruitness of the blueberries, in particular, is so good with the crustacean. I'm genuinely surprised to have never seen it before.
Next, 'Duck Egg'. A wonderfully soft egg with a luxurious creamy yolk that oozed into Shiitake mushrooms. I loved the sharp contrast of flavour and texture from pickled fennel and toasted hazelnuts.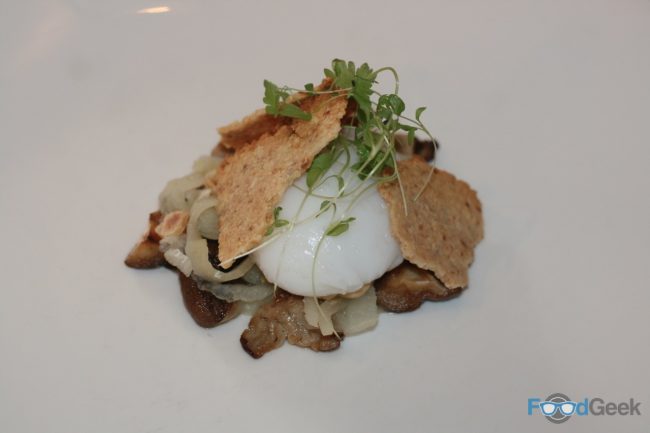 I really wasn't sure what to expect from a dish described only as 'Pigs Head'. I couldn't help imagining a Medieval style wooden board with a pig starring me out.
Of course, it was never going to be anything of the sort. It was in fact, a perfectly formed terrine.
Meaty with a high fat content and full of tasty pork flavours. Topped with sharp rhubarb that cut through the richness and what can only be described as egg yolk powder. Trust me, it was much better than it sounds.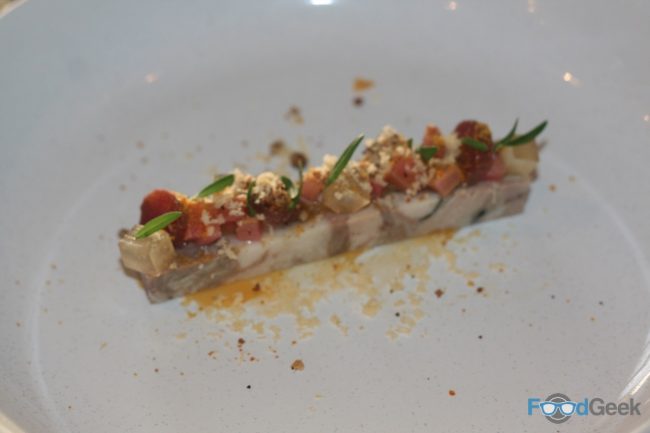 The fish dish was beautiful in its simplicity.
A well-cooked piece of trout with charred cauliflower, compressed cucumber and new potato. I was a bit worried about the inclusion of grapes but their sweetness worked really well with the fish.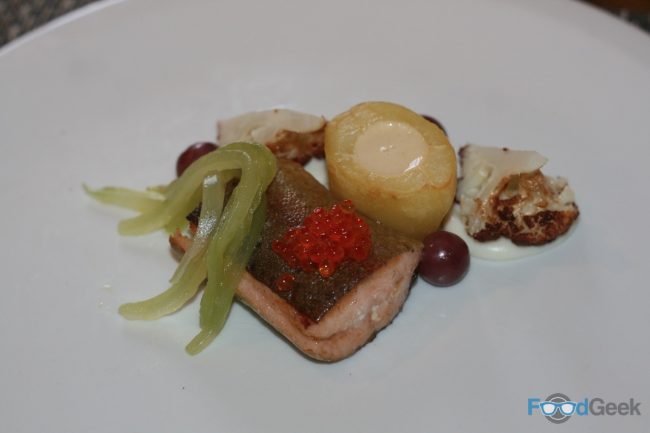 Although I loved the more challenging flavour combinations that came before, my favourite dish was perhaps the most conventional.
A generously sized piece of duck was cooked beautifully, super crispy skin but moist pink flesh. It was accompanied by cherries, various beets and pressed potatoes. These were fantastic, layers of soft buttery potato with a crisp exterior.
The rich sauce brought everything together and made for a delicious, elegant dish.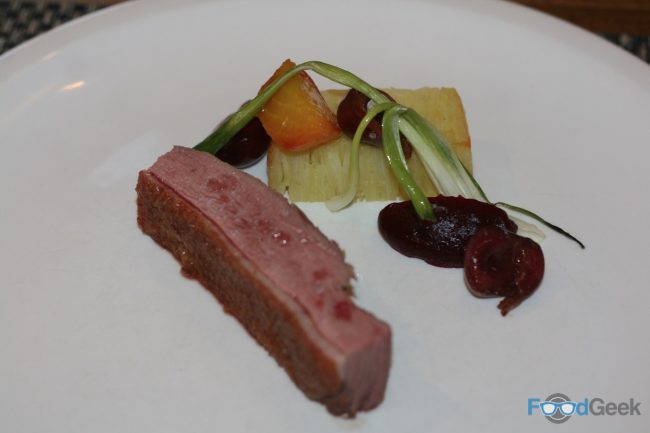 I'm always happy to see a cheese course on a tasting menu. Although somewhat disappointingly only one of the six items on the plate was cheese.
It was very nice cheese, as were the various accompaniments but I'd have liked some more as it felt a bit unbalanced.
Dessert was a rich dark chocolate tart with cherry, rose and dehydrated chocolate mousse. The pastry very well baked and I loved the bitterness of the chocolate.
You might think that a 7-course tasting menu (plus snacks) that included a cheese course would be enough. But that would be underestimating my love of cheese. I couldn't resist ordering a cheeseboard to finish. Very well priced at just £3 each.
We went for: Farleigh Wallop – a soft goats cheese with a thyme-spiked crust, Mrs Kirkhams smoked Lancashire and Mrs Bell's Blue – a mild but very tasty blue.
If I had one (admittedly very minor) criticism of my last visit to The Lord Clyde it was that some of the wine pairings weren't quite as good as they could have been. Although it was still very good value.
This time, we just enjoyed a couple of bottles from the well-judged wine menu instead. Both were excellent. The Malbec, in particular, was fantastic and a perfect compliment to the duck dish especially.
Service was also fantastic thanks to the charming Sarah, Ernie's partner and co-owner.
I really like what they're doing here. Not only the final dishes but the fact that they mill their own flour, grow their own radishes and other vegetables. They even keep chickens so that their eggs are top quality and always fresh.
The locals are very lucky to have such a place on their doorstep.
I can't think of many places that get better and better each time but TLC is definitely one of them. The food is absolutely fantastic; refined, accomplished cooking. Now with mainly 'interesting' rather than unusual flavour combinations and even more stunning presentation.
I've eaten in several 1-star restaurants where the standard of cooking doesn't even come close. It's probably a bit too far North to ever receive a star but everybody that's eaten there knows it deserves one.
Date of visit: 02.07.2016
Follow @FoodGeekUK