"Gromit, that's it! Cheese! We'll go somewhere where there's cheese!"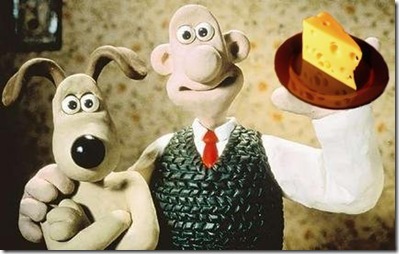 Wallace & Gromit went to the moon for their cheese filled 'grand day out' but you don't have to!
Next week sees the return of the International Cheese Awards to Nantwich in Cheshire. Cheese lovers from all over the world, including yours truly will gather in the 80,000 sq ft cheese complex to browse a variety of stalls from artisan cheese makers to national brands.
The International Cheese Awards is the world's largest cheese show, attracting 4,443 entries and beating the all-time record of 4,268 at last years show.
It's not too late to get your tickets. They're available for 'Show Day' on Wednesday 30th July from the Nantwich Show website) with large discounts off the gate price on the day.
Tickets for the following chef demonstrations are also on sale from the same website. Costing just £5 each and limited to 200 per performance:
10.00 a.m. – Jonathan Harrison
11.00 a.m. – James Martin
12 noon – Will Holland
1.00 p.m. – Sean Wilson
1.45 p.m. – Jonathan Harrison
2.45 p.m. – James Martin
4.00 p.m. – Will Holland
International Cheese Awards 2014: Tuesday 29th July (trade/judges) & Wednesday 30th July. Dorfold Park, Nantwich, Cheshire. http://www.internationalcheeseawards.co.uk
Follow @FoodGeekUK