If you follow restaurants on Twitter like I do, you probably know all about Sticky Walnut in Chester. Owner and head chef Gary certainly has an interesting approach to social media. His self-deprecating tweets are incredibly refreshing while his rants at bad TripAdvisor 'reviews' are highly amusing, but it's the fascinating insight into Gary's professional (and sometimes personal) life that I follow for; in the last few days alone we've been treated to photos of Vanilla Ice, abused frying pans and a blow by blow account of his train journey to London.
Don't worry if you hadn't heard of Sticky Walnut before, you will from now on as this week they were named 'Restaurant of the Year' at the AA Hospitality Awards. I visited earlier this month though, before it was cool, obviously.
As I found out when I arrived, Sticky Walnut isn't actually in Chester city centre but a suburb called Hoole. It's a pretty little place which I loved even more after discovering a fantastic beer shop at the end of the quaint high street where SW is situated.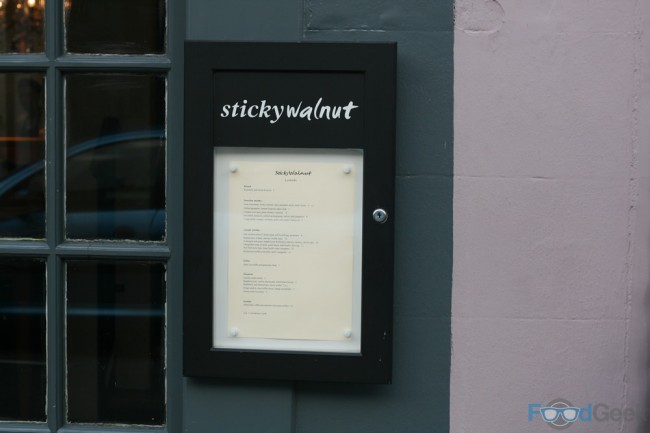 Inside is lovely too, much smaller than I expected but in a good way. The cosy, informal decor reminded me a lot of Aumbry in Preswtich, and anywhere that proudly displays their impressive cook book collection is alright by me.
I'm going to try not to be too gushing when describing what followed as I'm conscious of Gary not wanting people to visit Sticky with too high expectations. Although it's going to be difficult because it was all so bloody brilliant.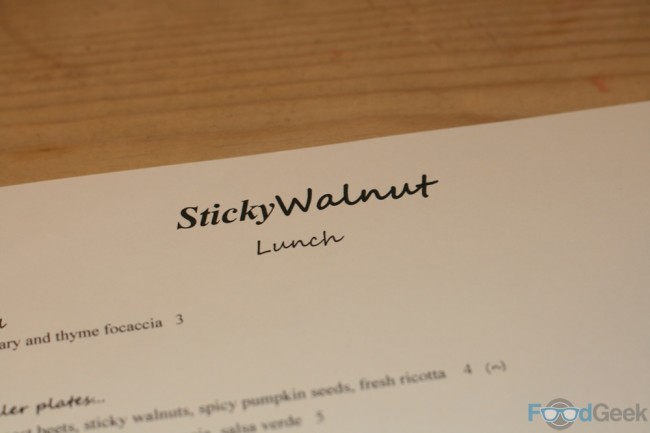 We started with 'Rosemary and Thyme Focaccia'. I could tell you that it was nice, freshly made bread, crisp on the outside, soft and fluffy inside, served whilst still warm and drizzled with quality olive oil. Or I could say it was hands down the best bread I've eaten this year, because it was. Many people think the quality of bread isn't important but for me it's vital, it sets the tone for what's to come. To get bread as good as this outside of a fine-dining restaurant is unusual and just one of the many reasons I loved Sticky from the start. Oh, and it only cost £3 too, yet there are people who say this place is overpriced?
If the bread didn't tell me we were somewhere special, the next course certainly did. My starter of 'Crispy Lamb's Tongue, Chickpea, Goats Curd, Green Charmoula' looked beautiful. The lambs tongues were ridiculously crispy on the outside, tender inside with a deep lamb flavour and just a hint of game. Brilliantly accompanied by a smoky chickpea puree, goat's curd and 'Charmoula' which tasted like an African version of Chimichurri with hints of cumin, coriander and chilli coming through with lemon juice, garlic and parsley. Being overly critical (just to help balance expectations) I would've liked more curd on the plate, the small amount seemed disproportionate to the generous sized lamb's tongue. Overall it was a stunning dish though.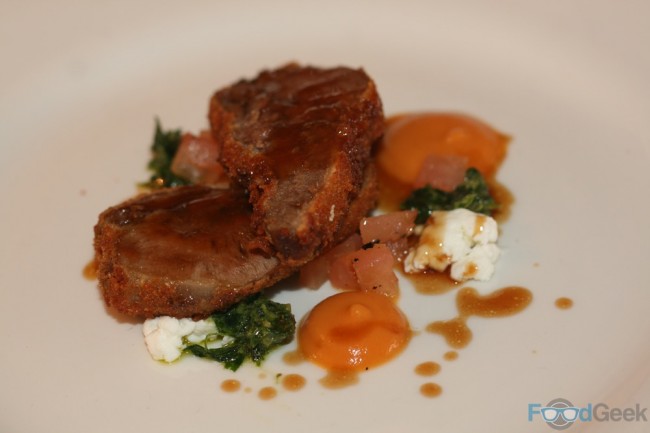 Mrs FG's 'Oven Roast Beets, Sticky Walnuts, Spicy Pumpkin Seeds, Fresh Ricotta' also looked and tasted great. Soft, earthy roasted beetroot with an array of interesting flavours and textures from the spicy pumpkin seeds, milky ricotta and restaurant namesake sticky walnuts.
Going for the lamb double whammy I had  'Chargrilled Rump Of Lamb, Green Beans, Pearl Barley, Dressing' for my main course. Rump of lamb is my favourite cut and this was exceptional, an extreme charring on the outside gave loads of lovely caramelised flavour while the inside remained pink and juicy. Served on pearl barley – a hugely underrated grain – with green beans and a meaty jus to bring it all together.
As is often the case Mrs FG went for the vegetarian option for her main course too, the intriguing 'Aubergine & Potato Dauphinoise Wellington, Damson Chutney & Cavolo Nero'. The plate wasn't as pretty as others but I guess it's difficult to make a halved wellington and bit of cabbage look fancy. We found the cavolo nero to be very highly seasoned, actually too much when eaten on it's own but of course it's not intended to be eaten that way. When combined with the wellington and gorgeous, sharp damson chutney the flavours were all perfectly balanced and delicious. The wellington itself was interesting and the pastry well cooked.
Despite not really needing them we couldn't resist ordering a portion of the 'Truffle and Parmesan Chips' I've heard so much about, I'm so glad we did as they were fabulous. Actually I didn't detect much truffle or parmesan to be honest, but I won't hold it against them as they were amazing. A brilliant dark colour with a seriously crisp exterior and a light and fluffy inside, these are pretty much as good as chips get.
One of the more memorable Sticky Vs The World rants on Twitter came after a 'reviewer' (I use the term VERY loosely as they were on TripAdvisor) claimed that the £5.50 he paid for a bottle of beer was a 'rip off'. To which @StickyWalnut responded with a photo of Tesco Value lager claiming they mark it up by over £5!
Ok here it is We pay 34p if we buy in a 24 pack ( which we do ) We sell for £5.50 Making roughly 5 squid per sale pic.twitter.com/WFbkWK18Fm
— STICKY WALNUT (@StickyWalnut) July 19, 2014
Thankfully there was no sign of cheap lager during my visit and the two local ales I enjoyed were reasonably priced.
Choosing dessert was tough, they all sounded so appealing. Eventually I opted for 'Blackberry & Almond Tart' served with a perfect quenelle of clotted cream and an equally perfect ball of shiny, cherry sorbet. Needless to say the tart was really good but it was the cherry sorbet I was most impressed with, having such an intense cherry flavour and totally smooth texture. The three elements combined to make a wonderful dessert.
Mrs FG's 'Ginger Parkin, Stout Toffee Sauce, Orange Semifreddo' was another good pud. The Parkin was intensely gingery, rich and sticky, the sauce sweet, warm and sticky while the semifreddo cooled and lightened things with it's delicate orange flavour.
As you can probably tell I absolutely loved Sticky Walnut, I do understand Gary worrying about people being underwhelmed because of the hype it receives and the fact that it's not flashy, it's not fine-dining etc.. but I think he's being far too modest. It's a lovely little local bistro with relatively simple dishes but they're executed perfectly and taste fantastic. For me I enjoy eating in places like that just as much as in Michelin starred fine-dining restaurants, probably even more so. Sticky Walnut is now up there with the Parkers Arms as my favourite places to eat, they both offer a quality of food far above what you'd expect from them but without all the fuss and at great prices.
So I highly recommend that you do visit Sticky Walnut, but please don't go with high expectations because of this post or even because they've been named 'Restaurant of the year'. Just go with an open mind and I'm sure you'll love it as much as I did.
Date of visit: 05.09.2014
* IMPORTANT * Sticky Walnut owner/chef Gary is looking to expand and open a sister restaurant, Burnt Truffle. He's hoping to fund the venture with backing from the public via a Kickstarter campaign. You can support the campaign by pledging as little as £10 but there are some awesome packages available if you have more to spend.
Check out all the details (and definitely watch the video) here: https://www.kickstarter.com/projects/1158079571/burnt-truffle-from-the-team-behind-sticky-walnut *
Follow @FoodGeekUK
Review Overview
Summary : Fantastic little local bistro that punches well above its weight in terms of food quality. Excellent value too.