Having enjoyed my first visit to Gorilla last year I've been meaning to return for ages, before a recent gig at the Academy I did just that. Located under the arches near Oxford Road station it's shiny and loud inside, it was busy too but we managed to grab the last free table.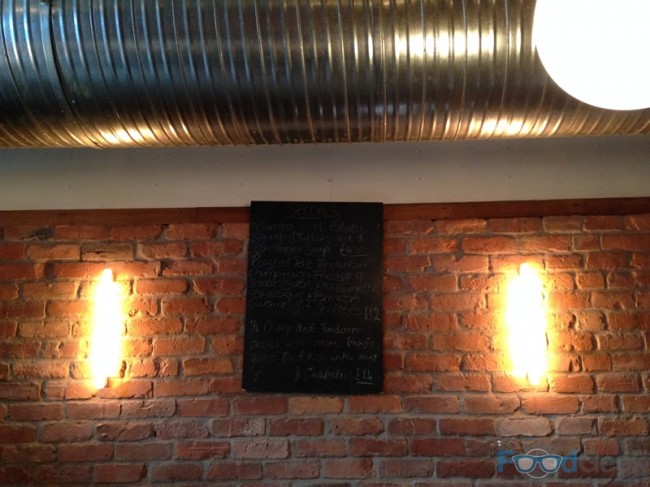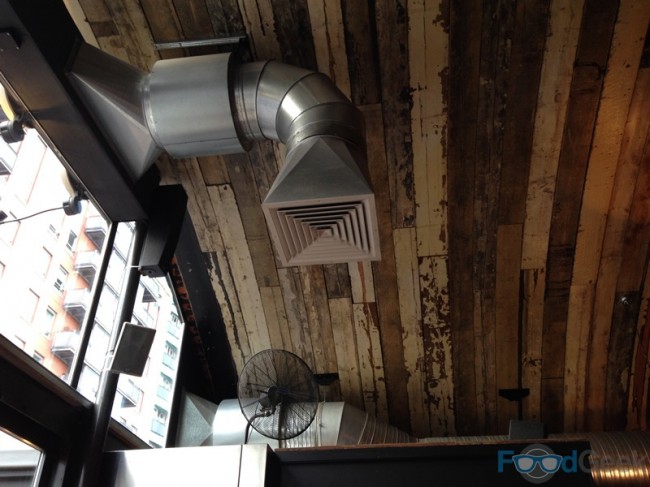 As if trying to get rid of us, our order was taken quickly and the food arrived shortly afterwards. Starting with 'Grilled Halloumi', bite size chunks of everybody's favourite squeaky cheese that had been marinated in lime and chilli with coriander, roasted red onions and peppers. It's hard to go wrong with halloumi and this was perfectly enjoyable, though i'd have liked a bit more chilli heat. 
I've made a conscious effort to eat less burgers in 2014 but sometimes it's just unavoidable. I meant to order the 'Herbed Lamb Burger' last time but ended up getting the 'Classic' instead. Although it was good, a little voice at the back of my head was taunting me for not going with the lamb.
It must have known as I made sure to order the Lamb Burger this time and it was incredible! It's not fancy, flash or ridiculously oversized. Just a good burger, full of flavours that work together; rosemary, garlic aioli, red onion chutney and lettuce in a brioche bun.
The only negative was the patty which despite being 'warned' that it'd come medium rare was actually medium, it was slightly dry but more than made up for it in taste. I'd still put it in my top 5 burgers in Manchester if I were to make such a list.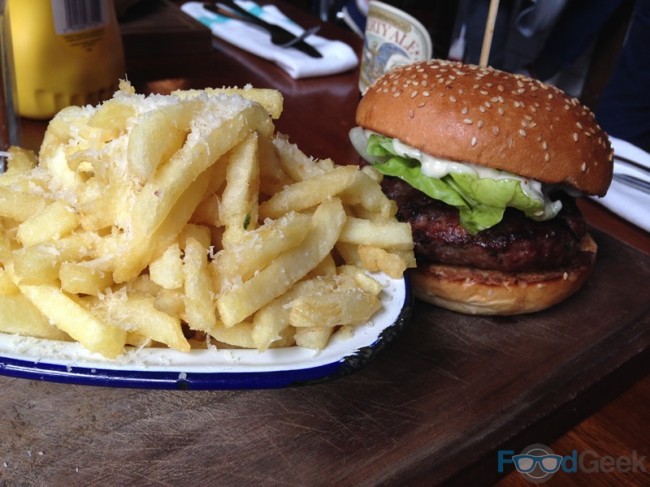 I remembered the regular fries being pretty good but this time upgraded to 'Deluxe Fries' – essentially just fries smothered in parmesan and truffle oil – they're even better, it's amazing how a little of something can make such a big difference.
Meanwhile Mrs Food Geek had been enjoying a rather fine hot dog, or 'Gorilla Dog' as they like to call it. This Bratwurst sausage was a good size, decent quality and well cooked, in a brioche bun topped with hot dog sauce and melted cheese. It tasted great and again I was impressed by the simplicity, it's nice to see places resist the temptation to overload hot dogs and burgers.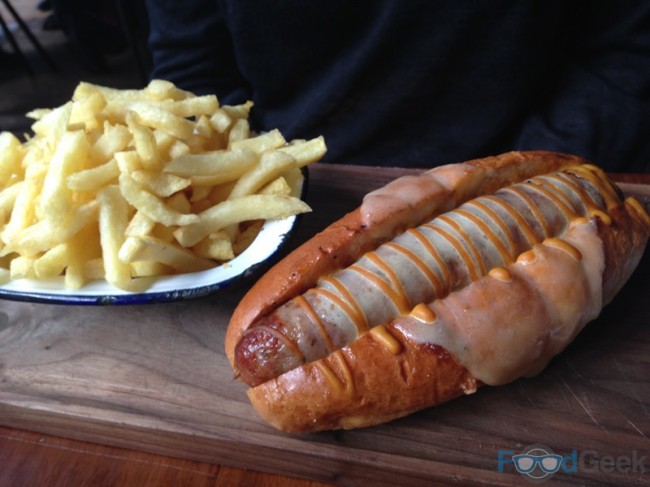 Desserts are fairly simple too but lovely and indulgent. We had a 'Chocolate Chip Brownie' which arrived topped with vanilla ice cream in a pool of highly addictive salted caramel and 'Pecan Pie' topped with whipped cream. Both were decent puddings with the brownie being our favourite.
The cocktail menu is impressive but on this occasion we stuck to the excellent range of beers; one of my favourites 'Anchor Liberty' and an interesting Icelandic white ale which i'd not seen anywhere before and quite liked.
I really like Gorilla and enjoyed this visit even more than last time, it has a great vibe and seems to always be busy yet they maintain a good standard of food and service.
Date of visit: 31.05.2014
Follow @FoodGeekUK