An early highlight of 2013 was a trip to The WineGlass at Etrop Grange last February where chef Ernst Van Zyl created a fantastic bespoke tasting menu for us. We'd been planning to return for months but just as we finally set a date in the summer heard that Ernst had left and then disappeared for a while. Appearing again a couple of months later with his own place in a secret (at the time) location, eventually revealed to be The Lord Clyde, a Gastro-pub in Kerridge near Macclesfield.
I desperately tried to find time to visit towards the end of last year but alas it was not to be. It was however a top priority for 2014 and we finally made it just before the end of January. Although only a 45 minute drive away we decided to check into a local hotel to make the most of the occasion and also so that I could enjoy the excellent value wine paring menu.
The pub is set in a beautiful location, unfortunately being January we didn't get to appreciate it much as it was cold, dark and very wet when we arrived (the above photo was taken on our way home the following day). Luckily inside was warm and cosy. Much more pub than restaurant but in a good way; it immediately felt like a proper local, everybody was friendly and seemed to know each other. Service is managed by Ernst's partner and co-owner Sarah who looked after us from the moment we arrived. Spotting a couple of decent cask ales we started with a pint before the food & wine began.
There's an A la carte menu available but there was never a chance of us ordering anything other than the 7 course tasting menu with wine pairing. Before the first course arrived we received four inviting looking bite size snacks sat upon what can only be described as a slab of marble. They were: Pork & truffle, Quinoa, beetroot & apple, 'Fish & chips' made with trout roe and Rhubarb & caviar. Mrs FG wasn't sure about the fish & chips but I loved all of them with the quinoa & beetroot and rhubarb & caviar my favourites.
One of the highlights of our Etrop visit was the amazing sourdough bread which reminded us so much of Noma (unsurprising since Ernst worked there and is still hugely inspired by the place). In fact, despite eating it early in the year and having lots of wonderful bread in more established places since – many with Michelin stars – that sourdough went on to win 'Best Bread' in the prestigious Food Geek Awards recently! So to say we were happy when we received not one but two loafs of this fantastic bread would be an understatement. One was made with a fermented rhubarb starter which sounded amazing, i'd love to tell you I could taste the difference but unfortunately I couldn't. This is possibly because of the copious amounts of smoked butter and beef dripping i'd smothered them with.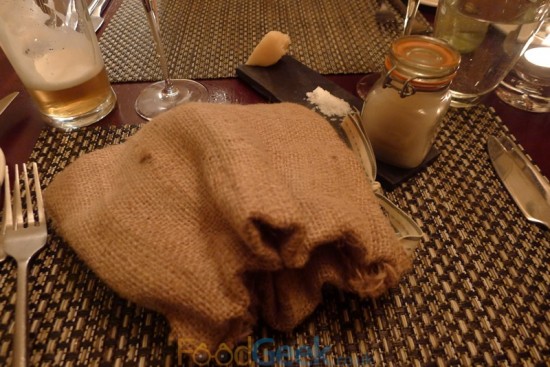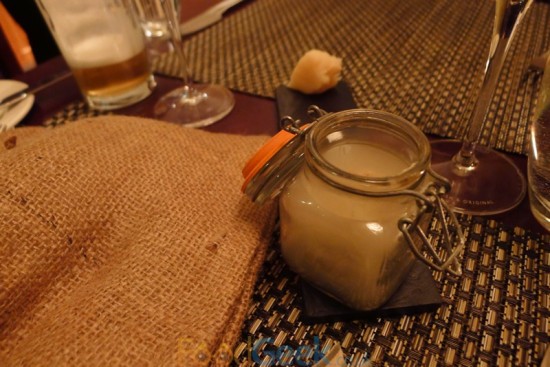 The first course soon arrived and looked simply stunning, an immaculate piece of lightly smoked mackerel with precisely placed pomegranate seeds, pickled onions, dried samphire and homemade cheese. It tasted every bit as good as it looked as the various flavours were in perfect harmony. The pomegranate in particular worked wonderfully with the mackerel, not a combination i've encountered before but it really works. The pickled onions were also great but whilst i'm a big fan of samphire I felt that drying it takes away too much of it's lovely saltiness. Although i've no doubt this was intentional as it'd probably overpower the dish otherwise and chef clearly knows more than me.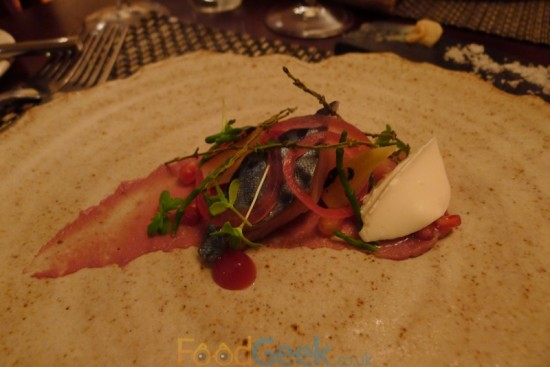 Next up was 'Quail' and every bit as beautiful and delicious. A superbly cooked breast and leg with a runny quails egg, rhubarb, celery and salted peanuts. Another slightly unusual but hugely successful combination of flavours, the contrast between the sharp rhubarb, clean and refreshing celery and salty, crunchy peanuts was superb.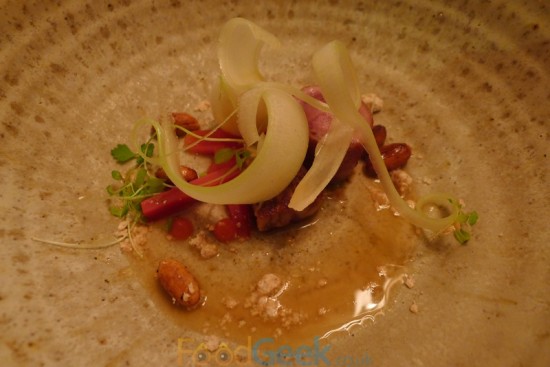 I'd expected not to like the 'Beetroot' dish as although I love coffee I like it strong, black and in a cup, not combined with food. I'm also not a big fan of raisins in savoury dishes, so on paper at least a dish of beetroot baked in coffee with gingerbread, golden raisins and balsamic vinegar didn't sound like it would be for me. However, I was well and truly proven wrong. That's what I love about tasting menus, i'd almost certainly never have ordered this dish and would have missed out on such a fascinating plate of food. Each flavour worked in perfect harmony with the others and whilst the gorgeous beets were still star of the show they were supported by the other intriguing tastes. The use of gingerbread was particularly inspired.
The 'Rabbit' dish was one of my favourites. Juicy, pink loin and tasty, tender leg accompanied by a slightly more conventional combination of parsnip, plum and chicory and one of my favourite grains buckwheat. The flavour of the plum really came through and worked perfectly with the meat to offset the bitterness of the chicory. A very clever dish.
Another of my favourites was the 'Venison', probably the simplest dish of the night yet easily one of the tastiest. The rare pan fried haunch was a fabulous piece of meat paired with sprouts, spelt and celeriac. The ring of pickled celeriac was amazing and reminded me of the stunning pickled vegetable dish i'd eaten at Noma.
An additional cheese course is available for a supplement. A well stocked board arrived with the traditional accompaniment of celery and grapes, a variety of crackers and generous portions of five different cheeses; Appleton blue, Smoked Applebee's, Red Gloucester, Ashby and Brie. Don't quote me on that though as after a couple of beers and 5 of the pairing wines so far things were beginning to get a little hazy. We had a very nice glass of port with the cheese too actually.
One of the dishes we remember most fondly from our trip to Etrop was the incredible 'Lemon Meringue Pie', this version has evolved slightly, particularly in it's presentation but it remains an exceptional dessert. The meringues themselves are proper Italian style; soft and gooey inside with a crisp exterior, blueberries have been replaced with blackberries which seem to work even better and the puffed wild rice is still my favourite element. All in all this is a highly accomplished dish.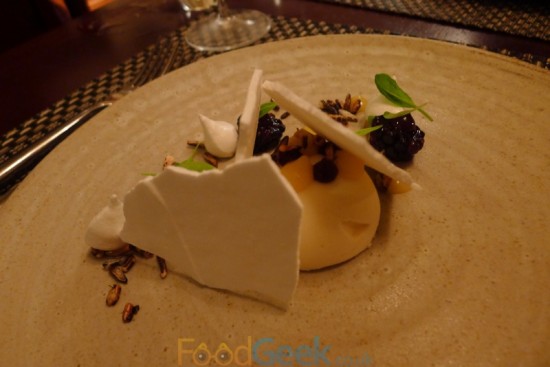 We'd reached the final course of the tasting menu which was to be poached 'Banana' with waffle! As good as that sounded i'd spotted an unbelievably pretty dish being served to other diners which I recognised as Ernst's take on 'Rhubarb & Custard'. I knew I had to have it! Just as I was about to ask Sarah if we could order it as an additional course, she seemed to read my mind and offered us the chance for one of us to switch our Banana dish so that we could try them both.
The 'Banana' dish was a wonderful dessert, soft poached banana with waffle, vanilla cream and honeycomb. Classy yet comforting, indulgent but not too sweet.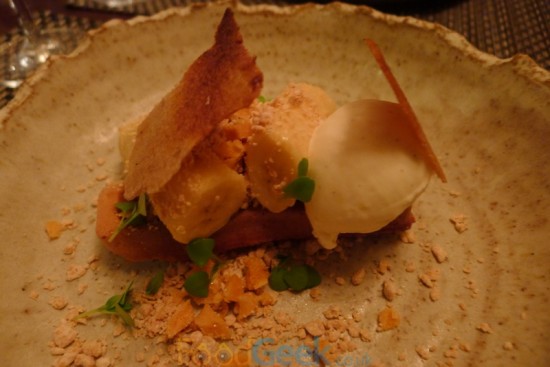 The 'Rhubarb & Custard' dessert was impressive to look at and equally so to eat. Personally I would have liked a little more sharpness in the rhubarb but I realise i'm probably in a minority when it comes to liking very sour foods, especially in desserts. Otherwise, it was a beautiful plate of carefully constructed food. Ernst had actually created an interpretation of 'Rhubarb Crumble & Custard' for us at Etrop after I requested it, we'd enjoyed it at the time but this one is on another level.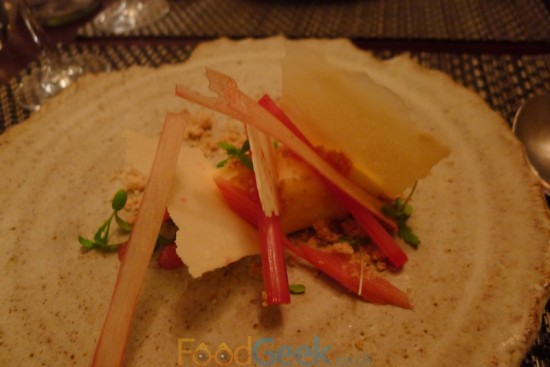 At the end of an amazing meal there was just time for one last treat. Petit Fours of 'Chocolate & Olive Oil' & 'Peanut Butter & Cointreau' both delicious, particularly the latter.
I genuinely can't think of a bad thing to say about The Lord Clyde, particularly about the food which is unbelievably good and amazing value for cooking of this standard. Service was very relaxed as you'd expect from a pub but was efficient, friendly and attentive at all times. If I was being really picky I felt perhaps a couple of the red wines were not as good as they could have been to complement the level of food but at £35 for 7 glasses it's very reasonably priced so probably unfair to expect more.
Overall the night has set the bar very high for 2014 already, we loved our time at Etrop but I believe Ernst has come a long way since then. His cooking seems to have been elevated and whilst his combinations and flavours are still unusual and slightly daring they seem to be far more successful now. I'll definitely be returning to The Lord Clyde, hopefully very soon.
Date of visit: 31.01.2014
Follow @FoodGeekUK