Meat fans of Manchester rejoice, something special is happening. Red's True Barbecue, much loved across the Pennines in Leeds have arrived and they've brought meat, lots of meat.
I'd been eagerly anticipating their arrival since hearing they were to take over the old Livebait site on Lloyd Street, Albert Square. The official opening is this Thursday (13th February) but I was lucky enough to have been invited not only to the press launch a day earlier but even more excitingly to a 'Pit Masterclass' yesterday.
Arriving a few minutes early I had chance to walk around and take in the amazing new decor. It's a long time since I was last in the building but I remember it looking pretty fancy then yet they still felt the need to spend £1.2million transforming the place. To be fair, a large proportion of that cost has gone to fitting out the huge kitchen with three giant smokers and several charcoal grills. A sizeable budget has been spent on neon lights too but they really work with the industrial look they've gone for, I loved the whole vibe.
After welcome drinks, beef jerky and pork crackling we were introduced to co-owner Scott Munro, within minutes of speaking to him his passion and enthusiasm was immediately apparent. He spoke of his South African heritage and reasons for going into business. I loved the fact that he mentioned several times that he's still learning all the time.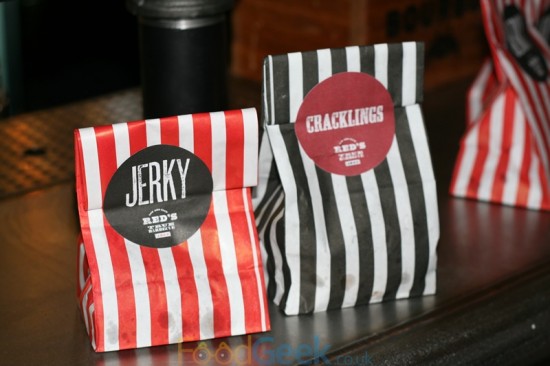 A tour of the shiny new kitchen followed, we encountered lots of meat and smoke and some more meat. We were introduced to Clint Britz, also co-owner of Red's who spoke just as passionately as Scott about their history and plans for the future. We tasted the most amazing brisket, hot and fresh out of the smoker after 21 hours of slow cooking. We then saw an ugly, fatty unprepared brisket and wondered exactly how it's possible that tomorrow it would look and taste as good. Fellow bloggers Liz & Deanna both made pretty good  attempts of trimming and preparing a rack of St Louis ribs .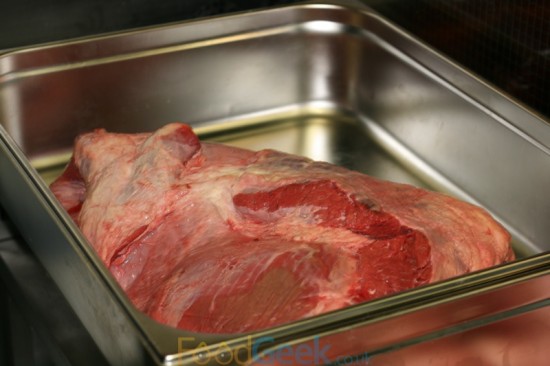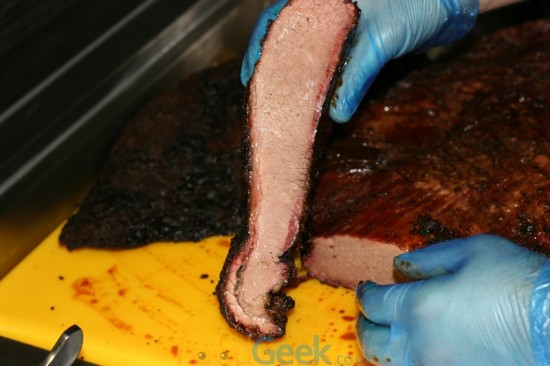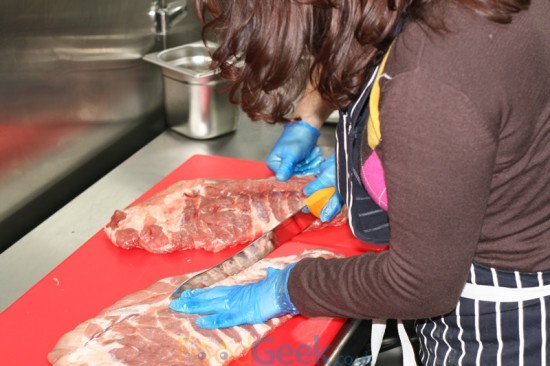 As much fun as the Masterclass was I was inevitably looking forward to eating the most. Lucky really, as I was then presented with two giant burgers, firstly 'The Pit Burger' featuring two 100% steak patties, grilled over hickory. Topped with slices of brisket, pulled pork, streaky bacon, melted cheese, pickles, tomato, lettuce, dirty sauce, American mustard and BBQ sauce. This is a seriously good burger which will give SoLita and Almost Famous a run for their money and burgers aren't even Red's thing!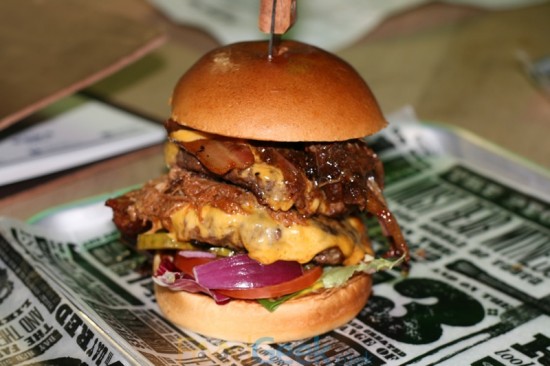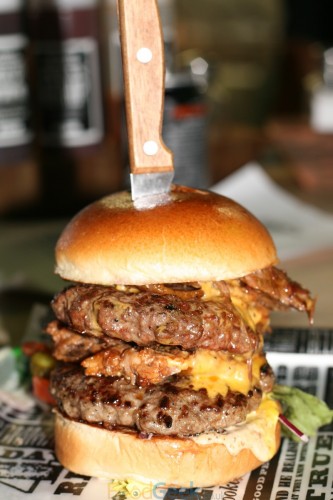 And what is sure to be one of the most popular dishes, the 'Donut Burger'. Yep, that really is a sweet, glazed donut in place of the bun. It's not as crazy as it sounds though, personally i'm not a massive fan of combining sweet and savoury so it's not really for me but it genuinely does work. The flame grilled burger patties are again wonderful, the flavour of the hickory they're smoked over really comes through. Combined with the melted double cheese, smoked peppered bacon, dirty sauce and deep fried crispy onions it's a thing of beauty. I just can't help thinking for me it'd be better in a nice brioche bun. Oh by the way, the Donut Burger comes in at 2,000 calories including sides. Ouch!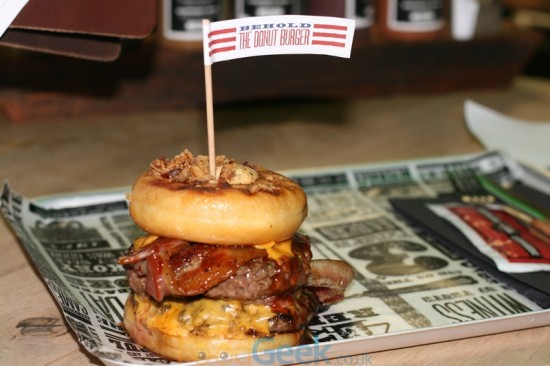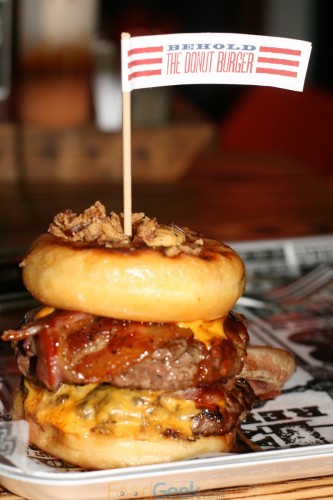 The burgers were washed down with a couple beers from their fine selection. With some very decent guest ales on tap and an even better range of craft beers by the bottle.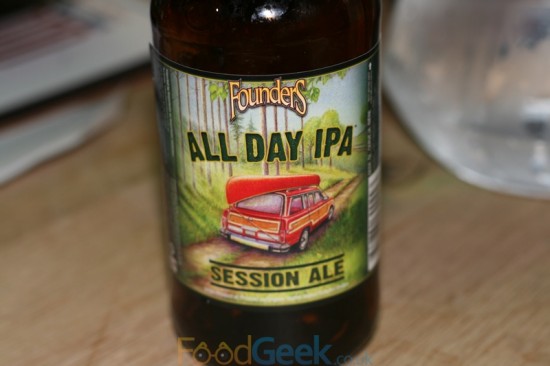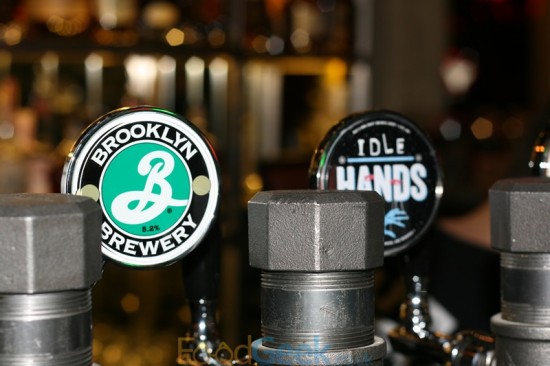 The Masterclass was loads of fun and it was great to get an early look at the restaurant, after talking to Scott he kindly invited me to return the following day when they'd be performing a practice 'full service' for friends and family which I duly accepted. Arriving at 2pm this afternoon the place was packed and completely buzzing.
This time we ordered from the regular menu.
Starting with 'Hush Puppies', fairly spicy, very tasty sweetcorn and jalapeño fritters with a chili con queso dip.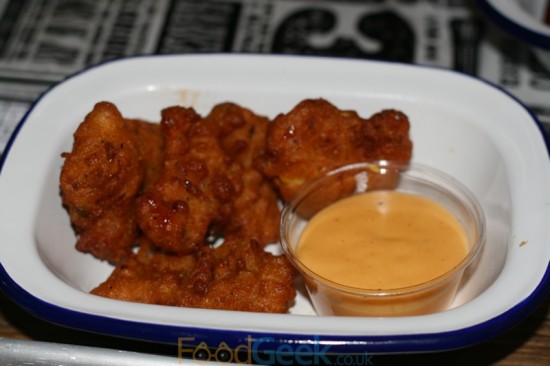 Tucking into my 'St Louis' ribs I couldn't help wondering if it was the rack that either Liz or Deanna had prepared just under 24 hours earlier. They tasted fantastic, the most succulent meat i've eaten for a very long time. Cooked to absolute perfection, the meat held onto the bone but came away so easily with the slightest pull. The sausages were just as good, Scott had raved about them the day before during the Masterclass and spent several minutes explaining in great detail how long it took them to perfect the recipe, the level of spices involved etc.. I salute them for their efforts as they're brilliant.
Even better were the 'BBQ Pit Beans', possibly one of the tastiest and most comforting things i've eaten all year! The sweet, smoky beans are finished in the smoker for 12 hours and served packed with burnt ends of brisket, pulled pork and crispy onions. At £2.95 i'd argue they're the best pound for pound dish around.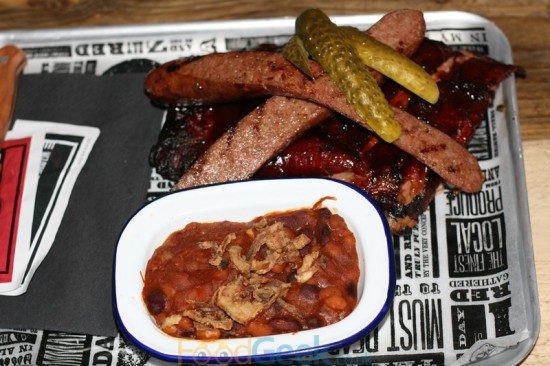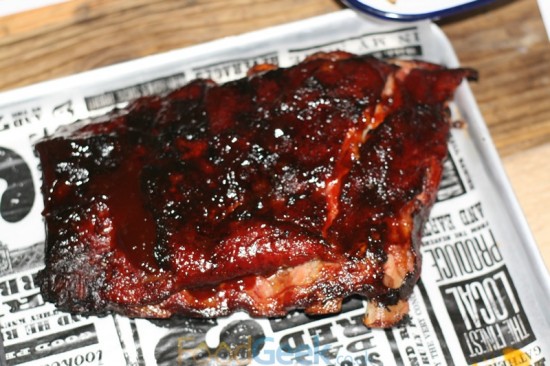 The 21 hour smoked 'Texas Brisket' tasted just as good as I remembered from a day ago and whilst 'Pulled Pork' maybe a little tired these days it absolutely still has a place in real barbecue joints like this, especially when it's as good as this was. The 'Grits' were soft and full of flavour coming from the smoked garlic, fresh thyme and smoked paprika. The only thing I ate that I wasn't patricianly fond of was the 'Giant Onion Rings', there was nothing particularly wrong with them they just tasted like OK onion rings and didn't excite me as everything else had.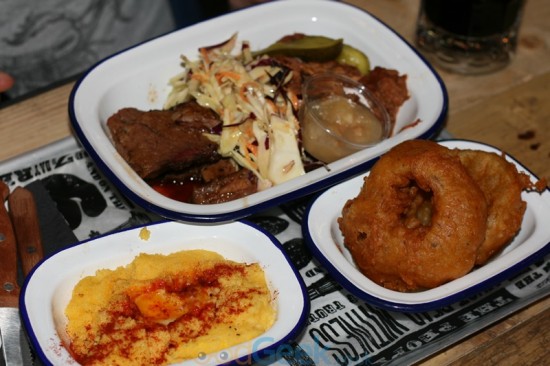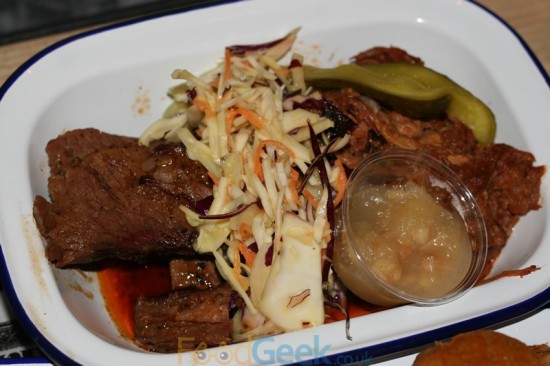 'Slaw' is Deep South style, no mayo instead lots of zing which really works with the meat, particularly the pulled pork.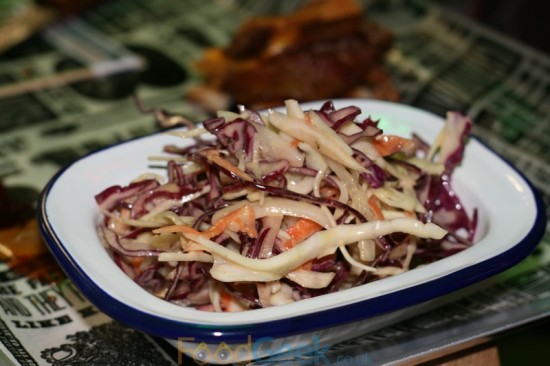 Amazingly we somehow managed dessert after all that. 'Banana Pudding' is fun, sweet and indulgent yet actually feels fairly light. Sponge wafers are topped with fresh bananas, vanilla custard and gooey meringue. The rich 'Chocolate Brownie' was more conventional but every bit as indulgent and enjoyable.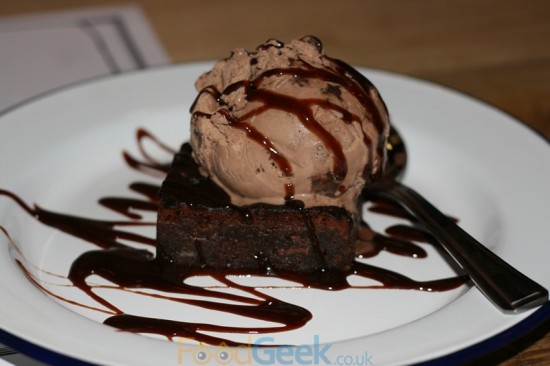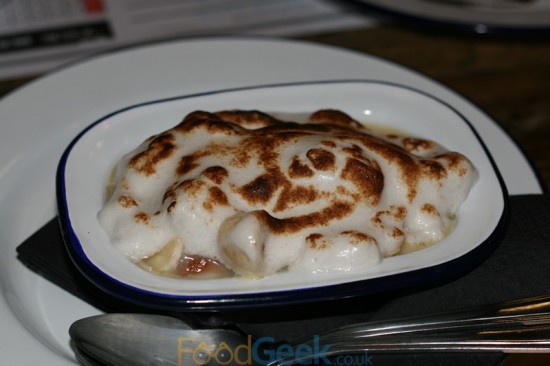 This time the food was enjoyed with a lovely 'Anchor Porter', another fine choice. I'm almost as excited by the choice of beers here as the food.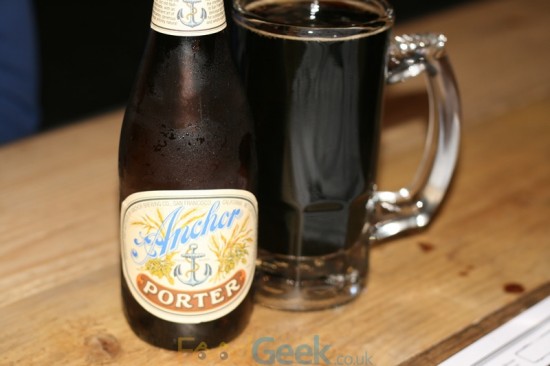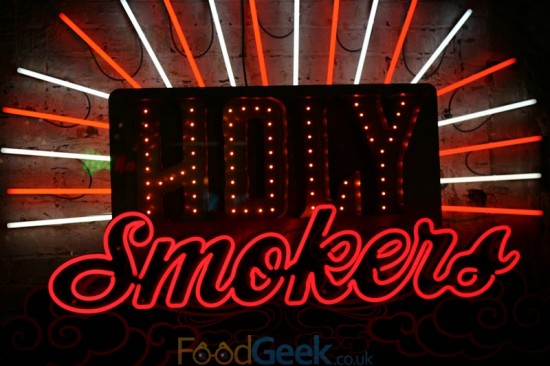 As i'm sure you can tell I REALLY like Red's, I tweeted afterwards that I'd fallen in love with the place. I may have just got caught up in the buzz or perhaps it was Scott's enthusiasm that rubbed off on me but I really feel like this is a special place. They know what they're doing, they sticking to that and they're doing it well, very well. I've absolutely no doubt that they'll be a huge success in Manchester, I know they'll be a firm favourite of mine.

Date of visit: 08.02.2014 & 09.02.2014
Disclaimer: I was invited to Red's on both days, the food & many of the drinks were provided free of charge. However, I was never asked to write anything, let alone told to be positive. All views are my own, I genuinely love the place and will be back as a fully paying customer very soon.