Unless you're planning on eating at Mr Cooper's House & Garden in the next few days this review is kind of pointless.
Simon Rogan has packed his bags and will be leaving Manchester before the end of October. Both The French and Mr Cooper's are being left in the capable hands of their current head chefs, Adam Reid and Robert Taylor.
When I returned to Mr Cooper's House in early summer it was very much still a Simon Rogan restaurant. Though I don't expect things will change immediately.
Mr Cooper's is situated within the Midland Hotel but accessed through the side door. Meaning you have to open them yourself, unlike when you visit the French with its fancy doorman.
Jay Rayner hates the decor but I think it looks great. From the plush bar and 'house' area.
To the even more inviting 'garden' area, where we chose to sit.
We kicked things off with very good freshly baked sourdough. Served with smooth whipped butter and sea salt.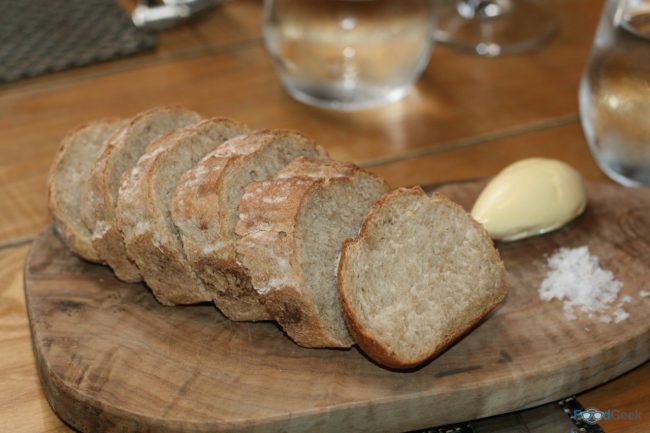 And fantastic 'Oxtail Croquettes'.
Crispy on the outside with succulent slow cooked meat and smoked marrow inside. The English mustard mayo on the side gave them an extra kick, not that they needed it.
These would be an amazing pub snack.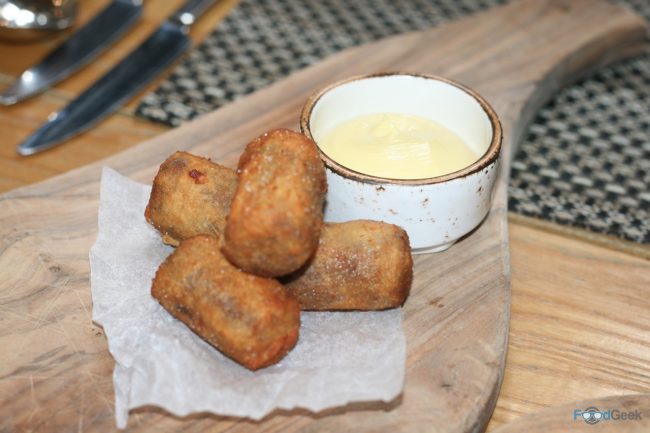 I was slightly disappointed when my starter arrived and I saw it only contained three prawns.
But all was forgiven when I took a bite. It might have been small but it more than delivered on flavour. The juicy buttermilk fried prawns came with sharp pickled fennel, sweet pear and the most amazing kimchee purée. A brilliant combination of contrasting flavours.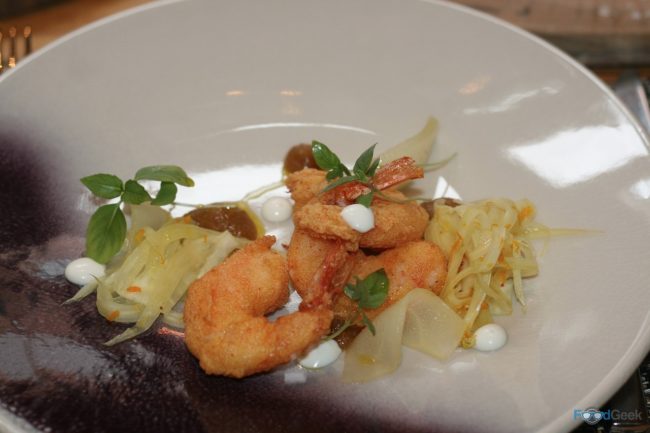 Mrs FoodGeek's 'Pea Bavarois', was much more subtle but also very good.
A light pea flavoured, perfectly set cream. Surrounded by an assortment of interesting flavours and textures. Including mint jelly, potatoes and parmesan.
A delightful summer dish.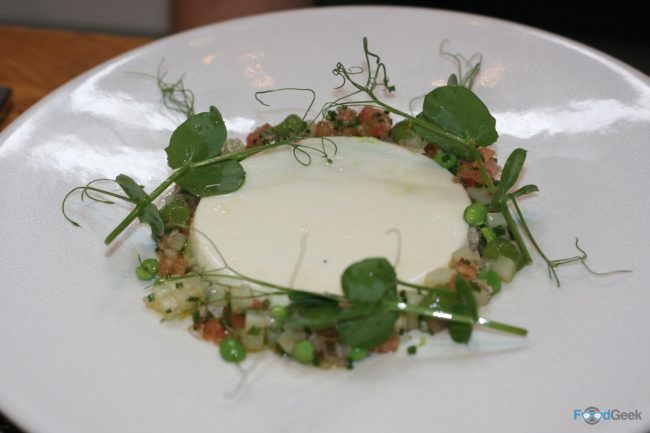 My main course was a hearty rump of Herdwick lamb with a Swiss chard gratin and spiced lentils.
The lamb was just about pink, I'd have liked it cooked slightly less. The lentils were incredibly tasty but it was all about the rich meaty sauce, it joined all three elements together wonderfully.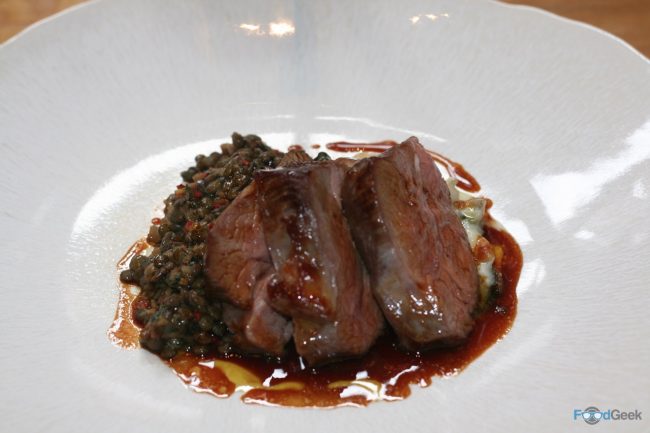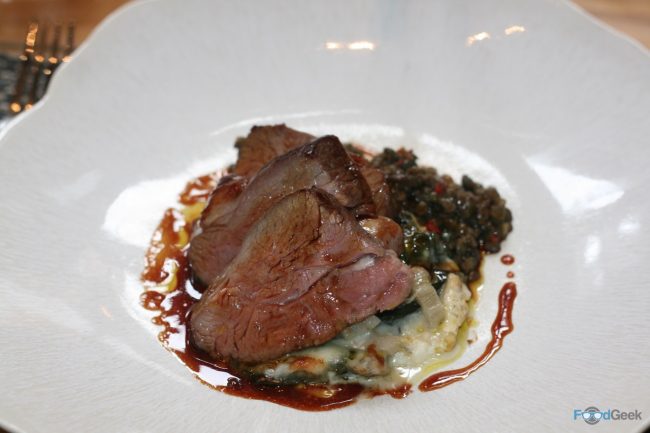 There was a lot going on with Mrs FG's main course.
The main event was the Cumbrian rib steak, cooked a beautiful medium rare. It was accompanied by a perfectly formed ravioli filled with tender brisket and very tasty beetroot fritters.
Again the intense sauce brought everything together in perfect harmony.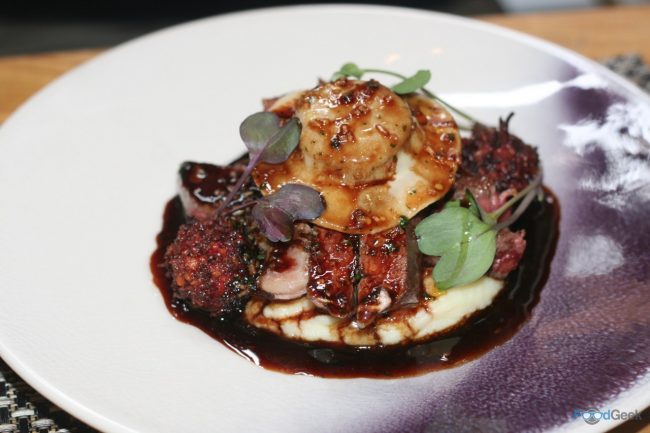 Our sides included smooth and buttery potato purée and creamed kale, spinach and bacon. The latter had more cream than most desserts.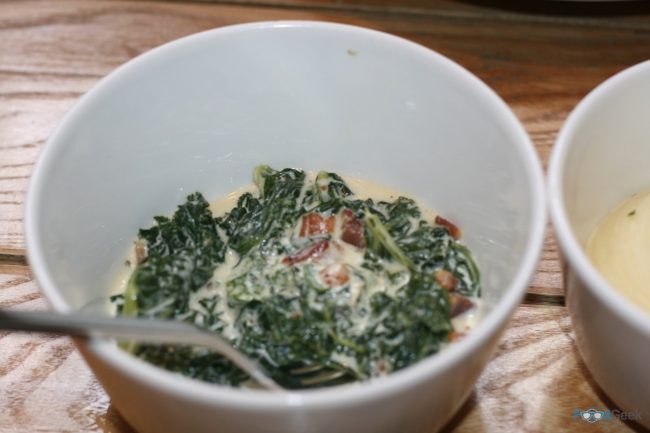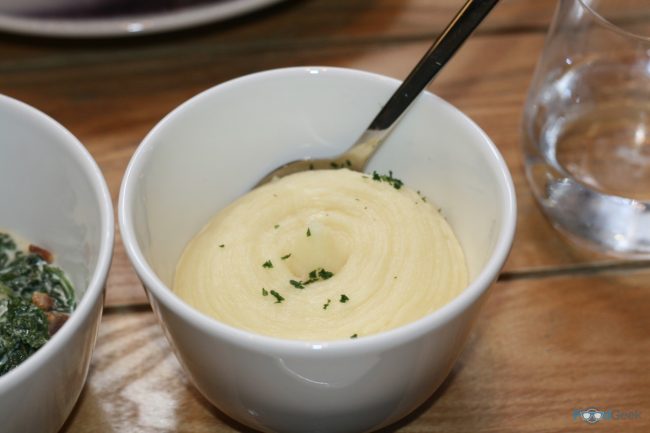 The first courses were enjoyed with a very good Italian red. Spicy with a hint of sour cherry that worked so well with the red meat. Really good quality for a relatively low £26.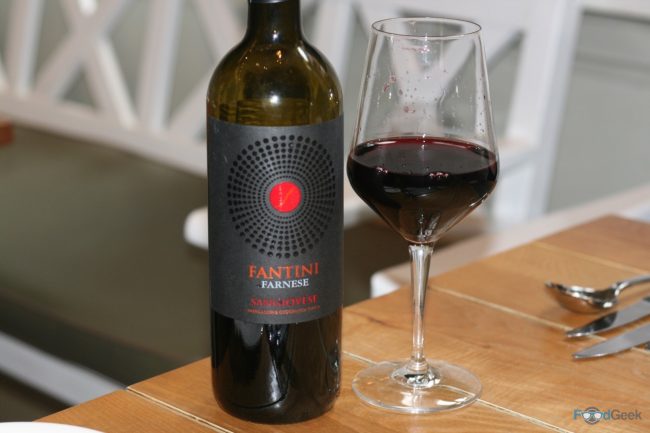 I can't resist ordering a Crème Brûlée when I see one. Which isn't often enough these days.
This one came with charred pineapple and rum flavoured jelly. They were nice enough but the brûlée itself was excellent. It's a classic for a reason people, don't stop making them because they're not cool anymore!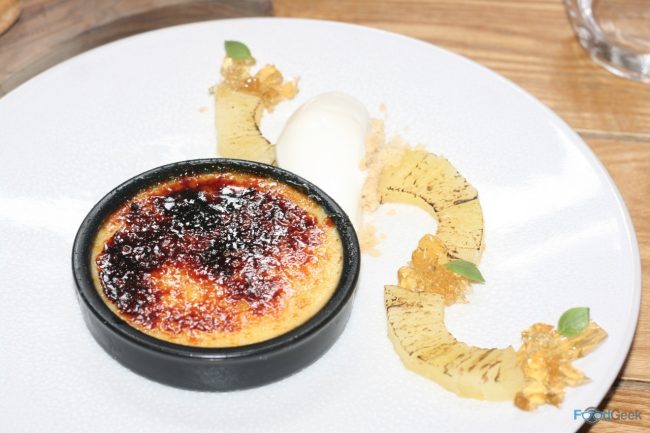 Mr's FG's dessert was more disappointing.
Firstly, the menu was misleading. It promised 'lemon doughnuts', but actually only contained one. And that was a rather sorry looking, overcooked dough bullet on the end of a spoon.
The glass of vanilla yoghurt with gooseberry compote was pleasant enough but felt small and overpriced at £7.50.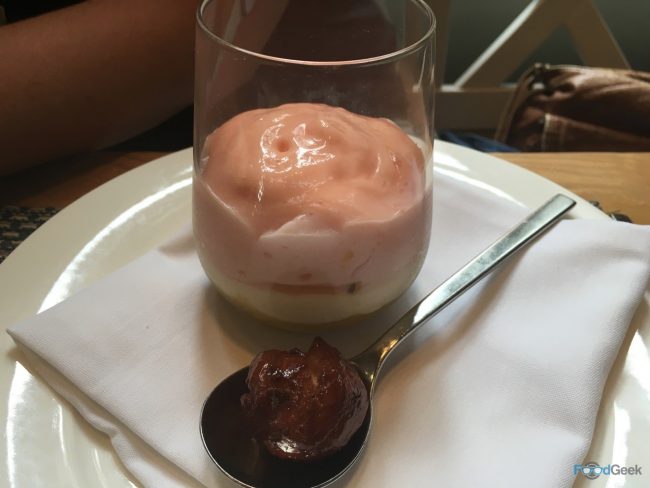 We finished by sharing a selection of British cheeses. Nice variety, good quality and generous portions. Interestingly, it also included raisins, salted pecans and savoury black sesame scones.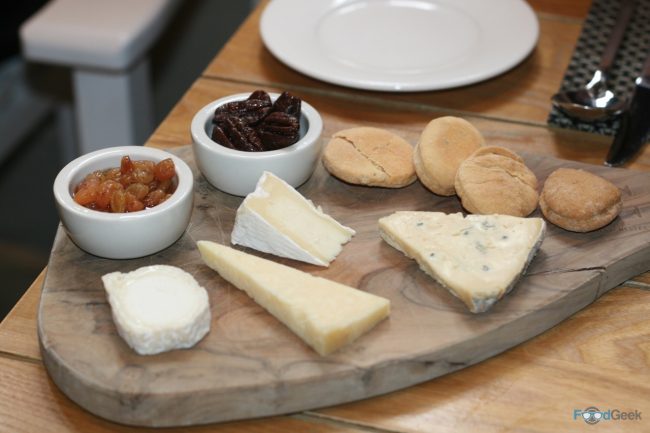 Cheese always means beer. Mr Cooper's house beer is brewed by local brewery Tweed. Although it's not great I'll always choose beer over wine with cheese.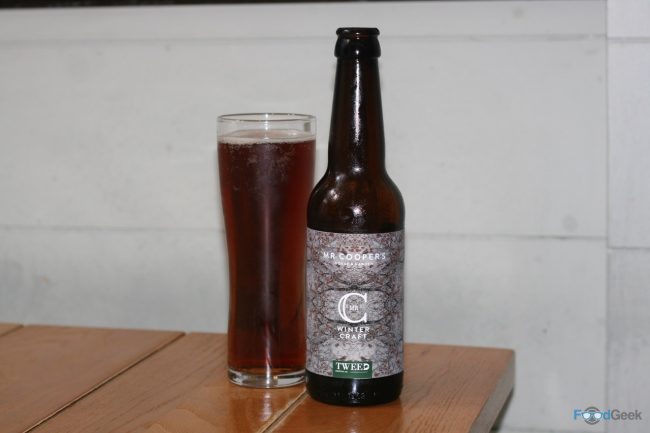 Although it was fairly busy service was immaculate. Generally speedy and our waitress was incredibly helpful and friendly.
And lemon doughnuts aside, the food was excellent too. Like the decor, Jay Rayner hates the variety in the menu but for me that's a highlight. I like being able to mix and match dishes and ingredients from different continents and cuisines.
I don't expect they'll miss Simon too much as with his other establishments Mr Cooper's was surely never a priority. It appears to be in very safe hands with Robert Taylor anyway. I'm looking forward to returning and seeing how he puts his own stamp on the place.
Date of visit: 21.07.2016