I wasn't feeling particularly festive when I woke up the morning after the Arepa!Areapa!Arepa! Christmas Supper Club, possibly because I was nursing a slight hangover. But there was no time for pity as I had another party to attend, this time the Drunken Butcher's Xmas party.
It didn't look much like a party when we arrived to be honest, there was no Christmas tree, no tinsel or fairy lights. Not so much as a bit of holly wrapped around the Drunken Butcher's piggy logo on the wall.
There were presents at least. Thanks Santa!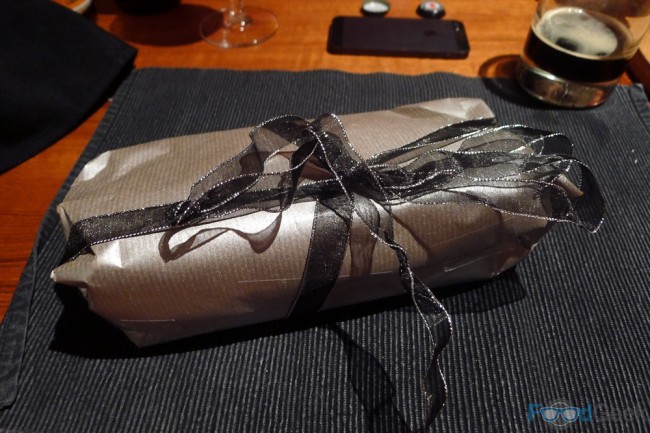 But what the room lacked in festiveness, the menu more than made up for.
Starting with the welcome drink; I don't always love the cocktails at Iain's as he's much more fond of bourbon than I am. No such problem this time though as we were treated to a 'Pear Naked Sailor', a Christmassy combination of spiced rum, pear, ginger and lime.
Even without turkey, stuffing or sprouts the food was just as festive. From the very first course, 'Pressed Duck with Piccalilli'. A delightful, perfectly formed square of rich, meaty duck had been made from a whole roasted duck, shredded, baked and pressed.
Served with piccalilli, which until then I've only ever enjoyed at the Parkers Arms. I'm happy to say I can now eat it at two places, as Iain's is just as good!
I don't drink mulled wine much, preferring mulled cider and even mulled beer this year. But I'll happily eat 'Mulled Wine Sorbet' out of a fancy glass bowl anytime (well, in December at least). The smooth, vivid purple sorbet was just bursting with Christmassy flavours and spice.
The highlight of the night was definitely the 'Lobster Mac & Cheese'. Judging by the sudden silence around the table I'd say the other guests agreed!
How do you improve an already brilliant Mac & Cheese? With lobster of course, big chunks of it, and a bisque. The bottarga shavings it was finished with definitely helped too; the cured & dried mullet roe added a deep savoury fishy flavour that somehow boosted the whole incredible tasting dish.
Followed by another outstanding dish, the 'Ox Cheek Ragu' was ridiculously tender; so rich, meaty and flavoursome. It was a surprise to learn later that it actually only contained six ingredients, and that four of them were salt, pepper, water and oil! (The other two were red wine and the ox cheek, obviously).
I was also surprised when Iain confessed he'd bought the gnocchi from a well-known supermarket. Only because I'm so used to him making everything from scratch. I don't blame him for a second though as these were perfect, nobody guessed and several people even asked how he'd made them, so why not? It just goes to show that the skill of the cook goes a long way, no matter what the ingredients.
Main course was a plate of pork, cooked three ways: cheek, rolled belly and diced leg, with creamed leeks on the side.
The leg didn't do much for me but was perfectly fine, pork cheek is always great and I've never met anybody who cooks it better but the highlight was the juicy, succulent pork belly with a thin layer of super crispy crackling on the outside.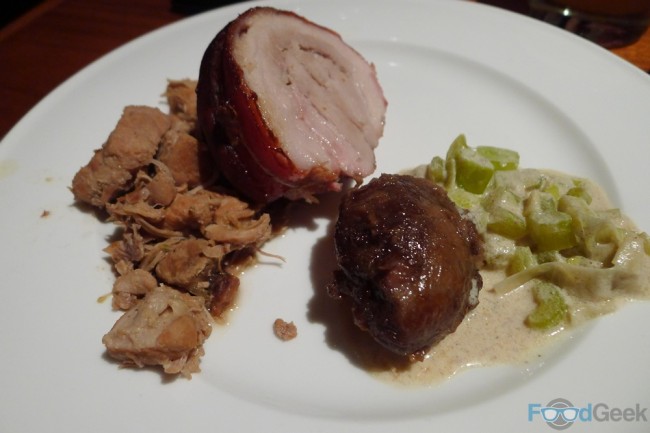 There was also 'Carrots with Butter & Bay' – one of my favourite combinations – and a gorgeous but potentially heart attack inducing 'Pommes Anna', which quite possible contained more butter than potatoes. But who cares about that when it tastes so good? Especially at Christmas.
Perhaps to help recover from all that butter and meat, the next course was a refreshing, palate cleansing 'Cherry Sorbet'.
And then one of the best desserts I've eaten at Iain's.
For my first few times here dessert generally consisted of cheesecake, very good cheesecakes but not all that exciting. They've got better and better over the last few months though; there were some fantastic elements of the two desserts at the recent 'One Night Stand' event (review soon) and the lemon posset and lardy cake at 'Game Of Bones' was my previous favourite, but this 'Chocolate Tart' has probably just about topped it.
Perfect pastry circles with an immaculate, glistening dark chocolate filling, topped with a stunningly smooth Grand Marnier ice cream.
Despite the lack of decorations we were all feeling suitably festive after such a well thought out and well executed Christmas menu (ok, perhaps the alcohol helped too). I left full of festive cheer, although so stuffed I was worried I may be mistaken for the big man on my way home. It's just lucky I wasn't wearing red.
It was my final Drunken Butcher supper club of the year. Looking back, I realised that I'd eaten at Iain's more often than anywhere else but home in 2014; eight official supper clubs, a roast dinner masterclass, a Harry Hill style fight and a few other occasions including a party and an impromptu feeding after I popped in to drop something off.
In total I consumed: 5 beers (provided, many more that I took myself), 11 glasses of wine (same story), 11 cocktails, a few shots of various spirits/picklebacks and 75 plates of food (equating to well in excess of 100 dishes). Many of them are amongst the best food I ate all year, and I can count on one hand those that were anything other than brilliant.
Despite the lines Iain had written on his piggy blackboard I'm hoping for more of the same in 2015, including a Food Geek themed supper club in spring which will contain copious amounts of great beer. Cheers!
Date of supper club: 13.12.2014
Follow @FoodGeekUK