OK, cards on the table from the start: I LOVE Jamie Oliver. I have practically all of his books and I watch all his TV shows (well, all his cooking shows anyway, I just couldn't bring myself to watch Jamie's Dream School). I'd like to think it won't have any impact on this review and i'm judging purely the food and service I experienced on the day.
Italian Rivals
As we pulled up outside Jamie's Italian Manchester on King Street the first impression is one of grandeur, it's HUGE and a stunning building – the old Midland bank designed and built in the 20s/30s, there is even a private dining room called 'The Vault' which is situated downstairs in the banks old vault! I also knew that it was close to Rio Ferdinand's Italian restaurant 'Rosso' but didn't realise that it was literally across the road, interesting potential competition.
Inside is just as impressive, I didn't visit the building whilst it was a bank but it looks and feels genuine, the designers have certainly kept many of the original features, the columns, hanging lights, ceiling patterns, huge windows, wood paneling and particularly the old bank clock which looks great (and works).
Cool For Kids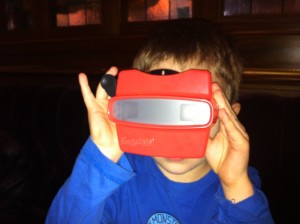 It's huge but was fairly quiet when we arrived (early Monday evening). We were seated quickly and the waitress presented us with menus, traditional paper for the grownups and inside cool retro 'ViewMasters' for the children to look through and choose (they both loved it despite not having a clue what they were initially).
The kids were also very impressed that their drinks 'Bottomless Organic Cordial' arrived in huge jugs for them to top up themselves. They were given crayons and pictures to colour as well and generally treated as well as they have ever been in any restaurant including many that are much more aimed at families and small children.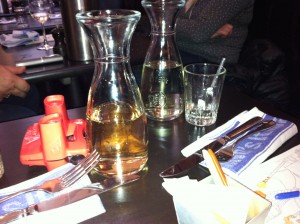 We couldn't resist ordering a bottle of Jamie's own brand Prosecco, it was delicious, definitely one of the better Prosecco's I've ever tasted, just light and bubbly.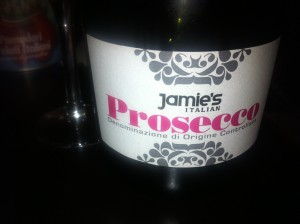 I Know It's New, But…
Whilst all of the staff were incredibly friendly & accommodating their inexperience was obvious. They all displayed lack of knowledge of the menu which is surprising as the restaurant had been open several weeks. Perhaps more worryingly our waitresses spent literally 10 minutes trying to open our bottle of Prosecco and genuinely seemed not only that she had never done it before but that she had no clue how to do it either.
Plank
To start with we ordered an antipasti 'plank' (a selection of cold vegetables, meats & cheeses served on a long plank of wood) which arrived very quickly and contained several different types of salami, prosciutto, pecorino with chilli jam, mozzarella with chilli & mint, pickled chillies & olives and a rainbow salad of carrot, beetroot with chilli, lemon & mint.
Everything was presented beautifully and the quality of the ingredients shone through, if I was being picky I would say that some of the flavours were not as strong as I would have liked. The chilli with the cheeses and in the salad was minimal as was the mint. Overall it was enjoyable and a worthy start.
The waitress had offered to bring the kids meals out with our starter 'so that we didn't have to eat with them watching us' which was nice in theory, the only problem was that they after finishing the antipasti we waited so long for the plank and plates to be removed that they had long finished their Cauliflower Mac & Cheese. They arrived looking fantastic on wooden boards, the Mac & Cheese in tin cups topped with very impressive Parmesan crisps. As the youngest is only 4 I felt I should help eat his and it tasted every bit as good as it looked.
Shake Me, Shake Me
They also received old fashioned jam jars full of salad with 'Shake Me' written on the top, the waiter came and poured in some very good quality olive oil and balsamic vinegar and then instructed them to fasten the lids and 'shake as hard as you can'. Needless to say that they absolutely loved this, my kids are good eaters and would have eaten the salad anyway but I imagine this kind of interaction will encourage fussier eaters to get involved too.
Worth The Wait?
Everything had been going so well up until this point but the wait between starter and main course was too long, it eventually arrived over 45 minutes after the starter which feels even longer with children. Thankfully they were worth the wait, we'd ordered 4 small dishes to share: Catherine wheel sausage on polenta which was also served with polenta chips, meat ragu with tagliatelle, wild truffle risotto, penne arrabiata.
The catherine wheel sausage was sticky & meaty, topped with tomato & thyme, the polenta it was served on was a little bland but the polenta chips were incredible, really crispy on the outside but soft and gooey on the inside and packed with flavour, topped with rosemary & Parmesan. I have made Polenta chips before and never managed to make them taste even a fraction as good as these.
The wild truffle risotto was good, the rice had just the right amount of bite, it was oozy and soft and very delicately flavoured with generous chunks of fresh black truffle.
The arrabiata was the star of the show for me, perfectly cooked penne pasta in a a top quality tomato, garlic & basil sauce with loads of chilli heat (scotch bonnet according to the menu) and some crunchy breadcrumbs to sprinkle on top for texture. About as perfect as a vegetarian pasta dish can be, simple and delicious.
The meat ragu was my least favourite. There wasn't particularly anything wrong with it, in fact the pasta was cooked really well as was the meat which was very tender (I believe that the meat was rabbit but the menu didn't say, the fact that the dish is called 'hunters meat ragu' seems to back this up though). The sauce just lacked a little flavour compared to the other dishes, although the fried sage leaves on top were a delight. My daughter took advantage of my indifference (and how much i'd already eaten) and finished it off for me and declared it delicious.
Not Quite Amazing Ice Cream
For dessert the children ordered 'Jamie's Amazing Ice Cream'. It wasn't amazing but it was good ice cream and at 50p a scoop much better value than most restaurants. There are a few interesting flavours, although it was very difficult to get this information as they change regularly and are not listed on the menus and again the staff were not as knowledgeable as they needed to be. In the end they both went for Strawberry & Cherry (2 separate scoops), the strawberry was gorgeous, the cherry a bit odd for me but they both demolished it in no time at all so what do I know?
We ordered slightly more refined desserts, a panna cotta with fruit compote and lemon curd slice. We had another very long wait from the main courses being finished to the desserts arriving which was disappointing but as with the main courses they were definitely worth the wait, in fact even more so.
What A Wobble!
The panna cotta was without doubt the wobbliest I have ever experienced, I'm kicking myself for not taking a video, seriously it's YouTube material! It wasn't all about the wobble though, it tasted great too. My previous best panna cotta was at Gordon Ramsay's 'Maze' restaurant while Jason Atherton was head chef but I think this just about beat it and cost significantly less too!
The lemon curd slice was perhaps even better, OK so it didn't have an impressive wobble but it tasted fantastic. The lemon curd itself was brilliant, so sharp yet sweet at the same time. It was topped with fruit compote, crushed pistachios and mint leaves and the flavour combination between them all was stunning. I will certainly be stealing that one, thanks Jamie!
Despite a couple of average dishes I was generally impressed with the food, most was above average and some brilliant, it was time to sample a couple of cocktails! The first to catch my eye was a 'Grape Smash' which is a Vodka cocktail shaken with sage, grapes, apple, lemon & elderflower. It's the first time i've ever had sage in a cocktail but I hope it isn't the last, it was really good. We also tried a Watermelon Smash which was another Vodka base this time with Campari, lemon, raspberries & fresh watermelon and a 'Big Italian' (Bombay Sapphire gin, Aperol, raspberry liqueur, fresh lemon juice & raspberry purèe topped with prosecco). The second too were decent enough but didn't hit the heights of the Grape Smash, I know what i'll be ordering next time!
Until Next Time
And I'm sure there will be a next time, I don't revist restaurants that often as there are so many and i'm always keen to try new places but I know we'll be back at Jamie's Italian. The food is decent if not amazing (certainly not Fifteen standard) but it is very good value as it's so reasonably priced. The building is stunning and in a great location and they cater for children as good as anywhere i've ever been. The only negatives are a couple of issues with the staff and waiting times, considering how quiet it was when we visited i'm sure there must have been worse service during peak times which must have been frustrating but I expect it will be much improved by the next time I visit.
Date Of Visit: 02.04.2012
Follow @FoodGeekUK