I've been looking forward to visting Pollen Street Social since it opened, I'm a big Jason Atherton fan and had an amazing time at Gordon Ramsay's 'Maze' whilst Jason was the head chef there.
Pollen Street Social is located on Pollen Street which is a tiny little backstreet between Oxford Street & Regent Street, just around the corner from Maze. I'm pretty sure i'd never have found it without Google Maps to guide me!
It looks quite small from the outside but inside is much bigger than I expected, it's much more modern and informal that I expected too. Light, bright and very open. The well stocked bar stands out in the first room and in the second the dessert bar does the same. There seemed to be a LOT of staff, even though it was busy i'm sure the ratio was much higher than most restaurants.
The first thing I noticed was how good the cocktail menu was, rather than the same tired old classics (which I love) there were some truly original concoctions. I ordered a 'Night Vision' which was absolutely delicious made of gold Tequila, carrot juice, coriander cress, lemon, cumin and honey syrup. Tasty and super refreshing.
I had to remind myself that we'd also come to eat so we ordered some food as well.
To start I had 'Slow cooked egg, chorizo, "patatas bravas"'. The egg was cooked absolutely perfectly, in a water bath I assume. The combination of runny egg yolk, chorizo and spicy tomatoy potatas bravas finished with a potato foam was excellent. A very good start.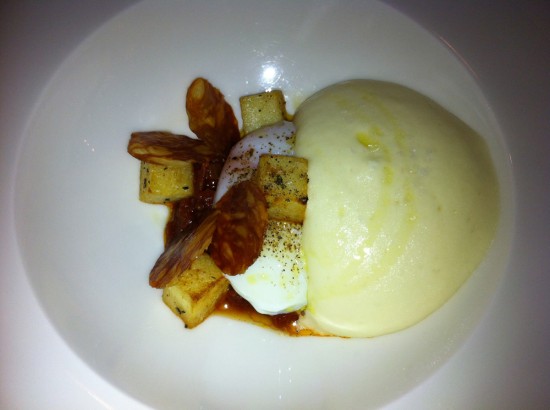 My partner was having slightly less fun with her Scallop & cauliflower dish. It looked very pretty and was tasty enough but it wasn't hugely interesting or inspiring. Consisting of just one (one, really!) nicely cooked scallop with pieces of roasted cauliflower, a cauliflower puree and topped with dill.
My main course was also excellent, Braised Scottish Ox cheek with a potato top served in a parsley beef broth. The Ox cheek was tender, moist and falling apart with an amazing deep flavour. The thin and crispy potato topping added a nice crunch and the delicious parsley beef broth finished off the yummy, hearty dish.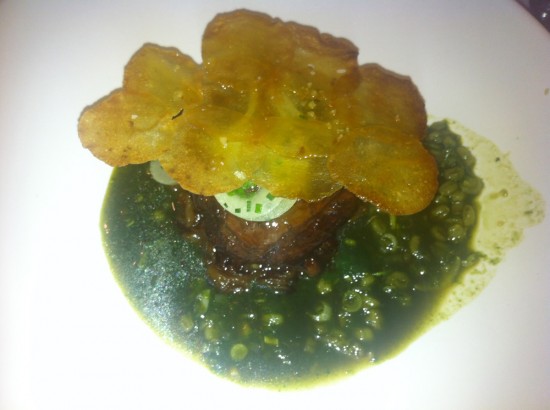 As with the starter my partner enjoyed her main course less. Cold, almost raw Salmon with a salad of cucumber, radish and dill with a mustard dressing. There was nothing at all wrong with it but again it was just not as inspiring as we expect from Jason.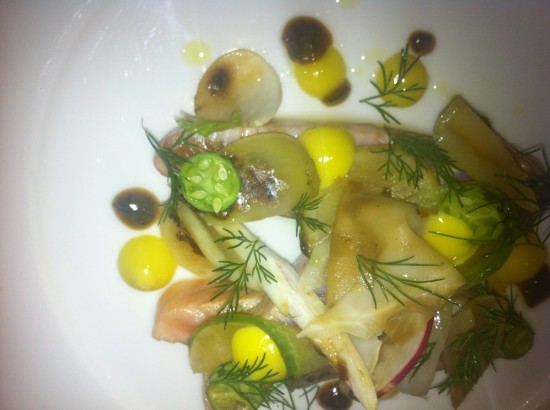 Before our desserts arrived we were served a pre-dessert which I know I enjoyed but am struggling to remember exactly what it was and seem to have forgotten to photograph it. It was some sort of lime and possibly pineapple granita served it a small glass. It was very fresh and zingy, the perfect palate cleanser. My partner seemed to enjoy it just as much as I did!
Luckily for her we'd both ordered the same dessert and I kept up my 100% record of picking good dishes. The 'Pistachio financier' was a great dessert. A piece of moist and bouncy pistachio cake served with various elements of strawberry. The fresh strawberries were juicy and sweet, the sorbet packed with flavour, the shard of strawberry tuile added texture and the whipped vanilla cream turned it into a rich and luxurious dessert that we both enjoyed.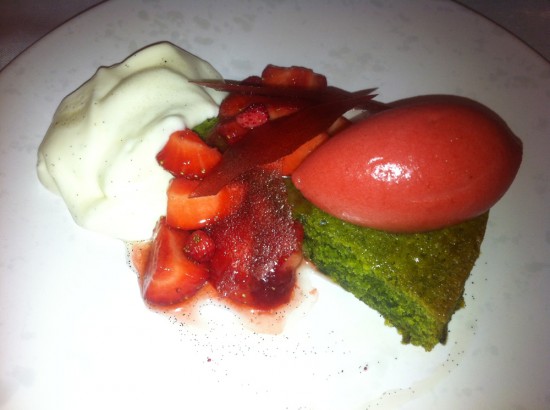 After dessert it was time to sample another cocktail. Although there were several intriguing options on the menu I already had my heart set on a cocktail that I'd read about in the Good Food Guide containing ginger infused vodka, passion fruit & cumin. To say I was very upset when I couldn't find it on the menu would be an understatement. One of the waiters seemed to sense my anguish and came over to see if he could help. After I explained he immediately brought the head barman over who insisted that such a cocktail had never been on the menu, I wasn't convinced until he assured me that he should know as he'd designed the menu.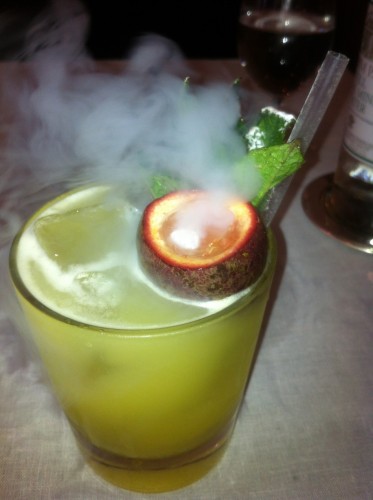 I reluctantly accepted that I must be going mad whilst deep down still believing that I was right. The bar manager was brilliant though, he offered to try and recreate the fantasy cocktail from scratch using just the limited information I gave him.
He came back 15 minutes later with a glass that looked like it has come straight out of the kitchen at The Fat Duck. It looked absolutely fantastic with dry ice steaming out of a passion fruit shell. He explained that it was Ginger infused vodka with cumin, passion fruit citrus syrup and of course finished with dry ice. It looked fantastic and it tasted even better, definitely one of the best cocktails i've ever had, probably the best. It should definitely be on the menu.
The first thing I did when I left was head to the nearest book shop to prove to myself that I hadn't imagined this cocktail. My heart sunk as it turned out that I hadn't imagined it but I had misread the paragraph about cocktails where it talks about a Breakfast Martini from Pollen Street Social and then in the same sentence a ginger infused vodka, passion fruit & cumin cocktail from…. Moti Mahal. Ooops.
I had a great time at Pollen Street Social, I loved all of my dishes and both of my cocktails, particularly the custom made one. I'm hugely impressed with how the staff handled it, especially the bar manager who was brilliant.
Date Of Visit : 02.06.2012