Before Simon Rogan showed up at The French there was really only one place to go for proper fine-dining in Manchester, Aumbry. Although not strictly 'Manchester', Prestwich is in Greater Manchester and only 3-4 miles from the city centre and connected by MetroLink.
I first visited Aumbry in early 2011 and instantly fell in love with the place, it's one of the few top restaurants that I revisit regularly, the last time for their Festive Tasting Menu in December 2012. After seeing head chef Mary-Ellen do so well on the latest series of Great British Menu and noticing a few new dishes on the menu I felt it was time to pay them another visit.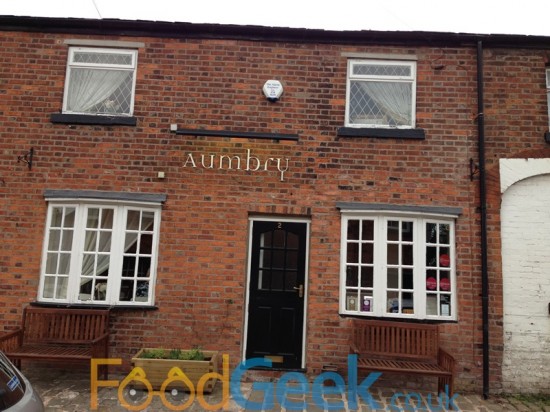 Aumbry is located in a converted cottage on Church Lane, Prestwich. The feeling that you're eating in somebodies home remains when you get inside, at first I found it slightly odd but now I love it and it's all part of the charm.
I was there to sample the 9 course tasting menu (4 and 6 courses are also available) but was first treated to a couple of canapés. The Cheese Gougères have appeared on previous visits and I've always enjoyed them but this time they were better than ever. I'm not sure if the recipe has changed or perhaps I just got lucky and got them totally fresh but the pastry was lighter and softer and the yews milk Wensleydale warm and almost liquid inside.
The second canapé was a new one to me, pureed black peas and vinegar topped with crispy fried potato bits. They were absolutely delicious.
Freshly baked Sourdough bread followed which was as good as ever and served with the usual two butters (Nut Brown and Williams from nearby farm in Bolton) and the amazing beef dripping which is always a highlight here.
After demolishing the bread and more of the beef dripping than was probably sensible we were presented with a very pretty looking amuse bouche. The main component, a home cured goats ham was smokey and meaty. Accompanied by light goats cheese and a perfect sloe & elderflower sphere which when burst filled my mouth with wonderful fruity flavours that worked perfectly with the goat. The flavour combination was fascinating and the spheres showed technical skill and flair, reminding us of the head chefs time working at The Fat Duck.
Next was a variation of an Aumbry classic and one of my favourite dishes. 'Home Smoked Mackerel' has featured on all of my previous visits, it was originally served with rhubarb and mustard cream but this version replaces the rhubarb with celeriac. It's always great to try new dishes or tweaks of classic dishes and being a fan of celeriac I was looking forward to it. I found it very enjoyable overall, particularly the beetroot puree which was sweet and powerful and matched the perfectly smoked mackerel brilliantly. The mustard cream was as good as ever and the dark rye bread added a nice bite. I didn't feel the the celeriac added much to the dish though, it was still a great dish and had I never eaten the previous version I'm sure I'd have absolutely loved it but I think overall I prefer the rhubarb version.
Next up was another Aumbry classic and one of my all time favourite dishes.'Bury Black Pudding Scotch Egg' with homemade ketchup and mushroom relish. It blew me away the first time I ate it and has almost as much impact every time since. This time was no different and I'm glad they haven't changed anything because it's already perfect.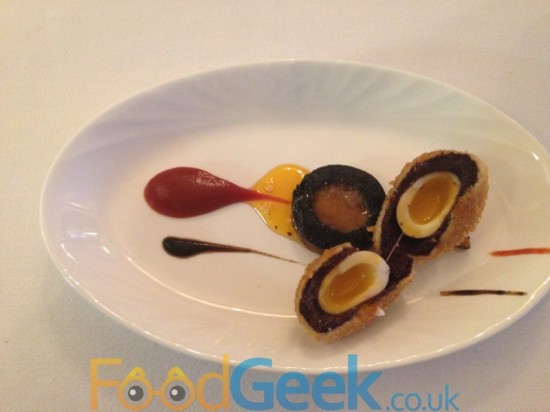 Something Aumbry does very well is soup, I've not had a better bowl since the Celeriac, Chestnut & Truffle soup at Christmas. I've had this 'Potato & Wild Garlic Soup' before and loved it, it was great this time too. It's creamy, rich and full of flavour but at the same time somehow manages to feel light too. I have to admit I was slightly disappointed though as the website menu was advertising Game Consommé which sounds intriguing and I'd have loved to try it instead.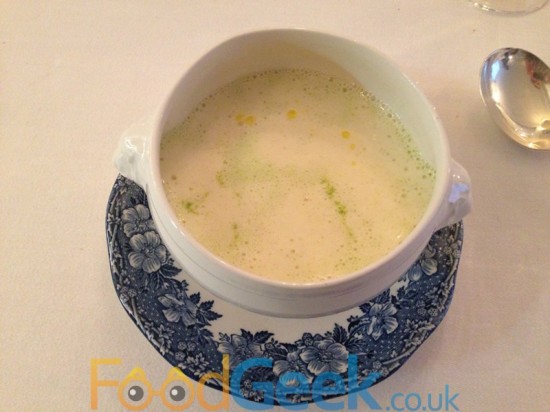 The fish dish was completely new and sounded exciting: 'Roast Turbot, Jerusalem Artichoke, Candy Beets, Pak Choi & Lapsang Souchong'. It didn't disappoint, the cooking of the fish was immaculate and i'm a big fan of pak choi. I've never eaten it with jerusalem artichokes but they work well together. The star of this dish though was the velvety, smooth Lapsang Souchong sauce which held everything together so well.
The main course was also new but I was already familiar with it as it's the dish that Mary-Ellen cooked on 'Great British Menu'. It's title on the show of  'Our Kid' slightly more catchy than 'Slow Cooked Milk Fed Goat, Pearl barley, goats curd, cauliflower & scotch pine'. The GBM judges loved the dish and I did too. It's a cliche but the goat literally fell apart it was so tender, it was full of flavour and every element of the dish complemented it from the intensely flavoured bits of cauliflower to the milky goats curd and the pearl barley which is fast becoming my favourite grain. The scotch pine was more subtle than I expected and the barley leaves added an earthy, grassy freshness to the dish which I loved. A very tasty and unique dish.
The cheese course followed and was similar to previous visits. Excellent quality cheeses that get progressively stronger from left to right. Starting with a soft goats cheese and ending on a strong stilton. My favourite was #4, a gooey English take on the classic French Camembert. The beetroot, apple & quince chutneys were all good but I would have liked a few extra oatcakes as the 3 provided were nowhere near enough for 6 cheeses.
The first dessert 'Grapefruit Posset, Celery Granita & Sherbet' has been around for a while but i've somehow avoided it until now. I'm glad I didn't miss it completely as I loved it! Whilst it did taste of grapefruit it wasn't sour like the natural flavour but it also wasn't too sweet either, it had perfect balance. The celery granita was refreshing and though maybe an odd ingredient in a dessert tasted great, the sherbet was a bit of fun and the whole dish was a joy to eat, the definition of a palate cleanser .
Like the soup, the final dessert was different than that advertised on the website and again I was slightly disappointed that the exciting sounding 'Beetroot & Chocolate Cakes with Bee Pollen' had been replaced with simply 'Apple Tart'. Of course I knew it wouldn't really be just an apple tart but it couldn't be as exciting, could it?
It turned out to be a rather special apple tart though, crisp pastry topped with buttery, caramelised apples, frozen yoghurt and meringue with bay running through it. A clever combination of flavour and texture and very enjoyable, I found the portion size a little small though, even for a 9 course tasting menu.
The last thing we ate were some interesting petit fours but i'm afraid the wine pairing menu had taken it's toll by this point and i'm struggling to remember details. I do remember the balls on sticks being delicious and containing popping candy which is always good fun.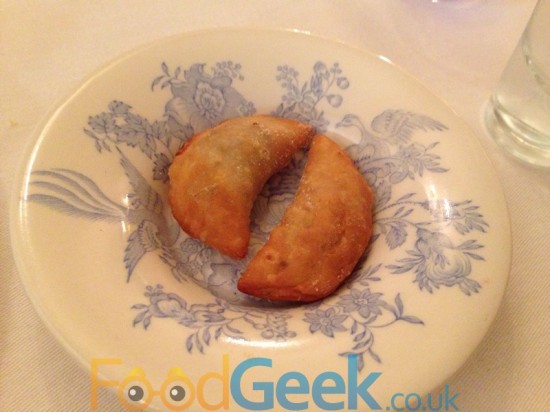 Service was exceptional all night like always. All of the front of house staff appear to be very knowledgeable about the dishes they're serving which impresses me greatly. Special mention should go to the female sommelier who is one of the best I've ever experienced in all of my dining. She's clearly knowledgeable but also incredibly passionate about the wines she is serving and takes the time to explain in great detail exactly why they have been paired with each dish. Although I enjoy good wine I certainly don't consider myself an expert, particularly when it comes to pairing with food but Aumbry is one place where I really appreciate the links between the wine and the dish, most of the wines on this visit were absolutely perfect for their respective dishes, particularly the fruity, chilled red wine paired with the Black Pudding Scotch Egg.
Whilst I had another fabulous time at Aumbry it did feel slightly less exciting than previous visits which I think is purely down to my experiences at The French. There is much to love about the food at Aumbry, everything I ate during this visit was immaculate and it's a completely different style of cooking to Simon Rogan's so is probably unfair to compare the two. I found it hard not to though, particularly as Aumbry felt much more expensive this time given that the 9 course tasting menu is a similar price to the 10 courses on offer at The French but that comes with several unadvertised extra dishes. Also, I get the feeling that if I return to Aumbry in 6 or 7 months most of the menu will be the same or similar whereas The French may be entirely new dishes with others having been and already gone.
I genuinely hope that I'm wrong and that there are many new and exciting dishes to come as whilst I'll probably always return once a year or so I'd certainly be happy to have an excuse to revisit sooner and more often.
Date Of Visit: 10.05.2013
Follow @FoodGeekUK