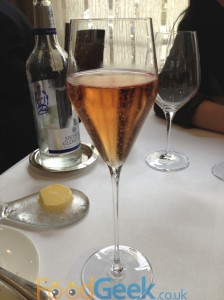 The Square is the sister restaurant of The Ledbury, having had such a great time at the latter just over 12 hours before, Phil Howard's own two Michelin star restaurant had a lot to live up to.
Having developed a bit of a taste for rosé champagne recently we started with a glass of Delamotte Brut Rosé, a little pricey at almost £20 a glass but a fitting start to any meal.
When planning the trip we'd intended on sampling the tasting menu at The Square. But after a hefty breakfast at Dishoom and a couple of other places to visit later 9 courses may have been too much even for me to manage. Instead we sensibly chose the 3 course option instead.
First, excellent homemade bread rolls; granary and my favourite walnut & rasin. Then an amuse bouche not disimilar from that which started our meal at The Ledbury the previous night. A chilled pea puree with creamy goats curd, mint jelly and caviar. Light and refreshing it screamed summer.
My starter of 'Crab Risotto with Smoked Eel, Wild Garlic & Preserved Lemon' was delicious, a silky smooth risotto with a wonderful balance of strong flavours and a generous amount of crab & smoked eel.
Mrs FG's simple starter of 'Steamed Asparagus, Coddled Eggs & Summer Truffle Solider' was also good, particularly the crispy 'truffle solider'.
My main course of 'Wild Sea Bream, Marinated Violet Potatoes & Baby Artichokes' looked beautiful. Other than the courgette ribbon being over seasoned in my opinion it tasted as good as it looked. The skin on the fish wonderfully crisp and complimented so well by the other elements of the dish including aioli and cicely which I'd never knowingly eaten before, it tastes a bit like tarragon.
Mrs FG also had a problem with the level of seasoning in her main course. Although it was just about okay for my taste the 'Saddle Of Kid, Parmesan Gnocchetti, Broad Beans, Morels & Goats Curd' was definitely 'highly seasoned' at best. It was otherwise good though, tender slices of goat with soft gnocchetti that had soaked up much of the deep flavoursome sauce holding it all together. The goats curd added a lovely creamy, freshness.
My dessert of 'Almond Blancmange, Crushed Strawberries & Toasted Waffle' was enjoyable without being spectacular. The sweet, creamy blancmange was topped with vibrant, fresh strawberries and an extremely good strawberry ripple ice cream. The toasted vanilla waffle on the side was a little underwhelming though.
Mrs FG won the dessert round with her dish of 'Elderflower & Pink Champagne Jelly With Raspberries'. A gorgeous grown up jelly  simply topped with fresh red and white raspberries, an intense raspberry sorbet and edible flowers.  A very pretty, elegant and tasty summer dessert.
Petit fours were some of the best i've ever had! Squishy, chewy nougat filled with crunchy nuts they were gone in seconds and I could have happily eaten several more.
Service was flawless throughout and though the food is fairly traditional it's of a high standard and deserving of it's 2 star status. I never quite feel the same about a restaurant at lunch time as in the evening but The Square had a great ambience which I can only imagine would be even better during an evening service.
I'd definitely be interested in returning to sample the tasting menu sometime, preferably in the evening of course. I'm not sure this visit wowed me enough to prioritise a return over the many other places on my list though.
Date Of Visit: 01.06.2013
Follow @FoodGeekUK