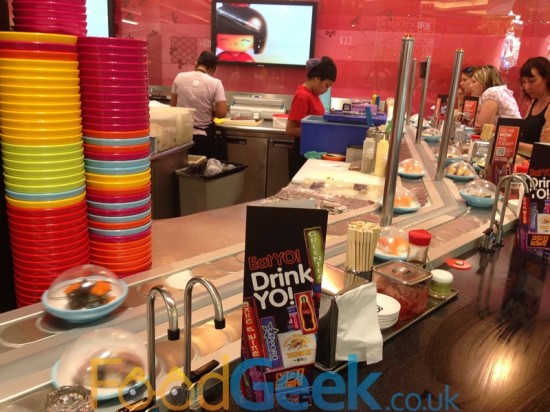 I've never been particularly fond of chain restaurants but there are a couple I'll tolerate if there's nothing better available. Until recently it was a short list: basically just Nandos & occasionally Wagamama! It's a long time since I've eaten at Yo! Sushi as I wasn't impressed with the quality previously but after visiting last month when I kind of enjoyed their slightly odd Yo! Burgers I thought i'd give them another chance.
Blue Mondays is a long running Yo! Sushi offer where many of the more expensive plates are available for the blue plate price of £2.50. I found myself at the Trafford Centre on Monday so it was a perfect opportunity to try a variety of their dishes without spending too much money.
It was completely full when we arrived and there was quite a long queue as well. It didn't take long to go down though and we were soon seated in front of the kitchen.
After starting with a plate of Edamame I moved onto a variety of sushi rolls. I was actually pretty impressed with most of them. They were generally well formed, particularly the Maki, the ISOs not quite as much but they all tasted pretty good too. The Avocado Maki were really good.
Similarly with the Nigiri, whilst not perfectly formed; both the Prawn & Seared Beef Nigiri were fairly decent, the rice was cooked and seasoned well and they tasted good.
The tuna sashimi wasn't the best quality fish but you can't expect it to be for £2.50. It wasn't sliced particularly well either though, the pieces far too thick and inconsistent.
I enjoyed the Soft Shell Crab Temaki (hand roll) on my last visit and the Salmon & Avocado Temaki this time was good too.
My favourite dish was the 'Beef Tataki'. Thin slices of rare beef with a really good sear topped a fresh, spicy and zingy salad.
I wanted to try something interesting that i'd never eaten before and 'Pumpkin Korroke' fit the bill. They were good. Lovely crispy croquettes filled with warm, soft pumpkin.
We ended with Mochi, something I tried for the first time at Samsi a few weeks ago and really didn't enjoy. These were far more enjoyable, they were much colder as though they'd just come out of the fridge whereas Samsi served them at room temperature. I don't know if these were just better quality or if they're better served cold but I certainly enjoyed eating them a lot more.
Overall I was actually quite impressed with Yo! Sushi. Obviously it can't compete with independent places like UmeZushi in terms of quality but it's just not that kind of place. They served a LOT of people while we were there and the standard is relatively high considering.
It's essentially a fast food outlet but i'd much rather eat their reasonable quality and value sushi than at somewhere like McDonalds. It's also far superior to Samsi who are supposedly independent and 'authentic'.
I'd be happy to eat their again if I was in a hurray and wanted something quick, healthy and fairly cheap.
Date of Visit: 15.07.2013
Follow @FoodGeekUK