We wanted to eat somewhere special for our last day in Spain, we were prepared to travel to a bigger town or city but had heard great things about the hotel in the village near our remote riverside lodge. It looked like a nice place from the outside but it was the offer of an 8 course tasting menu that swung it.
Hotel Pepo is the only hotel in the tiny village of Benifallet, we took the last table in the place so unless the entire village was dining there at the same time people clearly travel from far and wide to eat there.
The interior is smart and fairly formal with pressed white linen and low hanging gold lamps. The open kitchen features old fashioned charcoal grills that smelled wonderful.
Before getting started on the 8 course tasting menu we had one last chance to sample the local appetiser of 'Tomato Bread', we'd eaten plenty and this wasn't the best of the trip but did have a nice smokey flavour after presumably being toasted over the charcoal. Served with it were slices of delicious black and white pudding which were excellent.
The first proper course translated from the Catalan only menu as 'Sorbet with shrimp and mushroom cream croutons' which slightly worried me. Thankfully it wasn't a sorbet, in fact it was a lovely, warm, smooth & creamy mushroom puree topped with a crunchy prawn and crispy croutons. Full of flavour and a nice contrast of textures.
Next was a 'Foie Gras Sandwich', served very simply with peach jam and pistachio. A fairly unusual flavour combination but one that I enjoyed.
Another description possibly lost in translation were the 'Potato Dumplings with Black Pudding' as they were more like ravioli made with paper thin slices of potato rather than anything we'd describe as a 'dumpling' in this country. Whatever they're called they were really good, I loved the crunch of the crispy slices of fried potato and then the soft, warm, earthy black pudding.
The 'Artichokes, Foie Gras & Eggs' arrived at the table looking beautiful; a whole artichoke, a fried egg and a large slice of foie gras. Unfortunately I didn't get chance to take a photo before it was shredded at the table by the waiter. It didn't look so pretty afterwards but tasted fantastic. A simple dish of few ingredients but they just work so well together and there was again a wonderful contrast of texture from the crispy artichokes and fried egg to the soft, rich foie.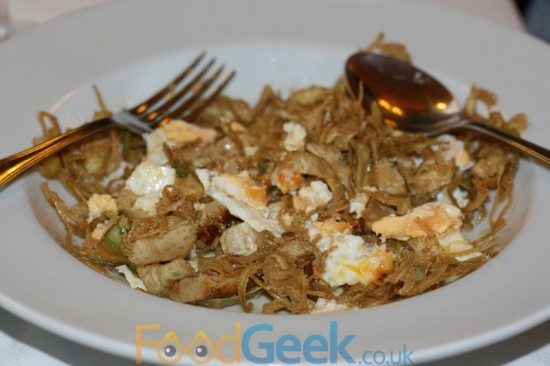 'Chicken & Truffle Cannelloni' was one of my favourite dishes, rolled pasta stuffed with chicken and truffles, topped with cheese and a béchamel sauce. Essentially indulgent comfort food but presented in an elegant, refined way, it looked and tasted fabulous.
Despite being half way through an 8 course tasting menu I couldn't resist ordering a 'Seafood Platter' too. I was going to miss the abundance of quality shellfish once back in Manchester and I just knew it would taste fantastic cooked over that charcoal. I was right! The squid was perhaps slightly overcooked and just on the verge of going chewy but the prawns and particularly langoustines were cooked to perfection and tasted as great as i'd hoped.
For the main course there was a choice between meat and fish. I'd normally go for fish but as Mrs FG already had and wanting to try both I went for the meat instead.
It was a wise decision because the 'Veal Cheek' was as good a piece of meat as i'd had for a long time. Slow cooked to utter perfection and served with a flavoursome veal sauce and homemade crisps.
Unfortunately whilst I was loving my veal Mrs FG had the only disappointing dish of the entire meal. Her prawns were well cooked but the mushrooms a little gritty and the mashed potato average at best. It wasn't terrible but underwhelming and not even close to the standard of everything else we ate.
Mojito's are my favourite ever cocktail and this palate cleansing sorbet had all the right flavours with the addition of kiwi which worked for me.
The final course of 'Yogurt Mousse with Red Berries' was simple but delicious. Sweet, whipped yoghurt with a red berry coulis and crisp, sugar coated tuille.
'Petit Fours' that looked like churros but had more of a crumbly, biscuit texture were ok. I'd probably have preferred that they were churros though.
I was seriously impressed by the food at Hotel Pepo. It's was easy to forget we were in a small local hotel of a remote village with a population of just 700! The quality of cooking and ambition in the dishes but many bigger hotels and restaurants to shame!
Service was also impeccable and whilst my Spanish had improved considerably over the last week I appreciated the basic English that a couple of the staff seemed to enjoy practicing on us.
Overall it was a fitting end to a fantastic week, Tarragona is one of my favourite regions now and I hope to return someday. If/when I do i'd love to eat at Hotel Pepo again.
Date of visit: 01.09.2013
Follow @FoodGeekUK