It's fair to say I was looking forward to Aiden Byrne arriving at Manchester House, I'd made a reservation at the earliest opportunity way back in March for the original opening night of August 8th.
But building delays caused it to be pushed back a couple of times before finally opening on September 17th. Unfortunately due to other commitments I wasn't able to make the first night and had to settle for a Friday night 10 days later.
Although I was very grateful to have been invited to the press preview launch a few weeks ago where I got a taste of what was to come. As much as I enjoyed that preview I know a service for a room full of invited foodie guests is not the time to be judging a new restaurant.
A busy Friday night however certainly is.
We started off with a lift to 'The Lounge' bar upstairs, it was like a different place from my last visit. The views even more stunning with Manchester looking quite spectacular at night but the bling and particularly music levels turned up to the max too. I'm assuming they want this bar to be full of people out for a night on the town rather than just a pre-drinks bar for restaurant diners. There's nothing wrong with that but it's definitely not my kind of place.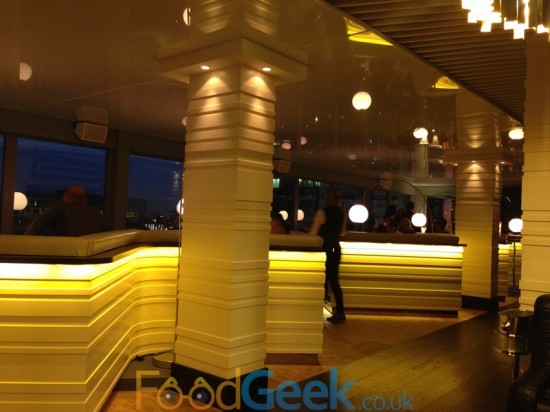 It was greatly improved by a bottle of complimentary champagne – kindly offered after having our original reservation cancelled – served in very fine glasses and a selection of canapés.
Although very similar, two of the canapés had changed slightly from my last visit: Fig & Parmesan Tuille and Cured Salmon & Potato Mayo were both enjoyable enough but happily my favourite 'Beetroot, foie gras and palm sugar macaroon' remained.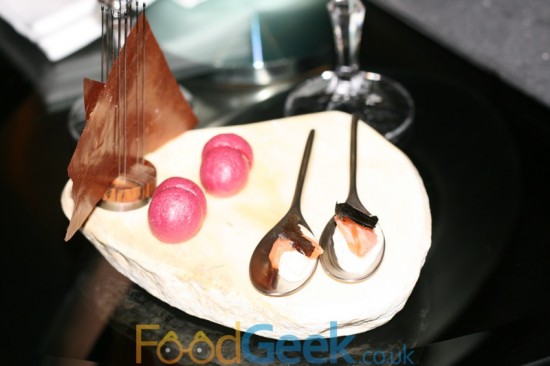 When we made our way down to the restaurant I was pleased to find that unlike the bar it still felt as relaxed as it had last time. It looks even better at night too with the lighting really highlighting the impressive industrial style decor.
The first dish of 'Smoked Bacon & Onion Brioche' was a slight variation on last time. The summery pea butter and pea juice had been replaced with a more autumnal roast onion butter and sweet onion juice. After reading some other reviews it seems I liked the pea version more than most but I have to admit I enjoyed this one even more.
There was nothing autumnal about the second course 'Chilled Broad Bean Soup'. It's delicate freshness screamed summer. The soup itself was subtly flavoured which was contrasted by the addition of tangy goats cheese.
'Razor Clam, Squid & Pepper' looked stunning and tasted just as good. I loved the contrast between the soft, perfectly cooked razor clam and crunchy fried squid. A really excellent dish.
An even better dish followed, 'Braised Snails, Potato & Parsley'. I remember hearing Heston Blumenthal saying it took years to perfect the 'Snail Porridge' dish at 'The Fat Duck', I don't know how long Aiden has been working on this but it already feels very accomplished to me.
The juicy braised snails were really delicious and topped with a creamy, highly seasoned potato foam and parsley.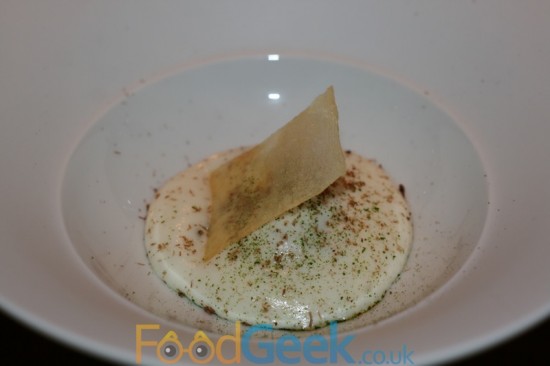 My favourite dish last time was 'Roasted Pigeon, Black Cherries & Pistachio', this time it's been slightly renamed to 'Pigeon, Foie Gras, Palm Sugar, Cherries & Pistachio' presumably because nobody could keep the 'fake' foie gras filled cherry a secret. I enjoyed the dish even more the second time around! The flavours seemed even punchier, particularly the freeze dried cherries which were almost sherbet like. The foie cherry is still as impressive.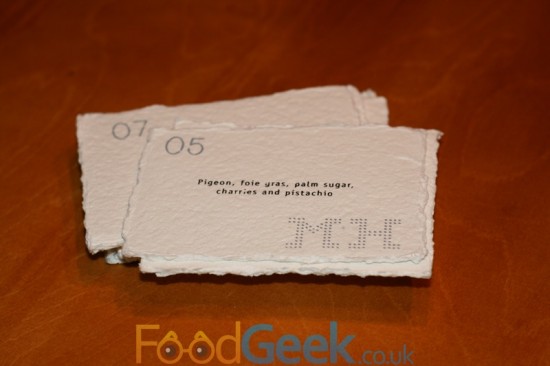 Another dish I really liked previously was the 'Great British Menu' winning 'Prawn Cocktail' and it was equally good here. It's an impressive looking, fun dish and I still love the zingy passion fruit flavour with the prawns. It was Mrs FG's first time tasting it and she agreed with me that the flavours work well and she didn't find the passion fruit too sharp.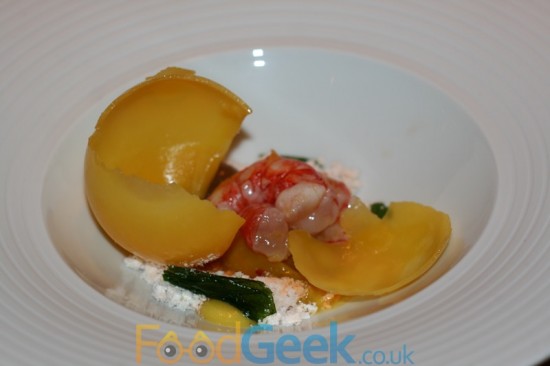 Last time, the 'Beetroot, Oyster & Oxtail' dish didn't quite live up to it's theatrical entrance but it did this time. I enjoyed the beetroot infused oyster and particularly the oxtail filled, almost donut like bread roll just as much. But the oxtail consommé was much more intensely flavoured which lifted the dish to the level it needs to be at with presentation like this.
Visually the next dish, 'Potato & Artichoke Salad with Truffle' reminded me of something you might find on the menu at The French or any Simon Rogan restaurant for that matter. I did enjoy it but it's a shame I had that thought in my head as i'm sure i'd have liked it even more if I hadn't, for me it slightly struggled in comparison to Simon's cooking.
Whilst chatting to Aiden at the press lunch he'd kindly offered to let me try the lobster dish from the A La Carte menu when I came back as I was so disappointed to learn it wasn't on the tasting menu. On the day, I almost didn't bother mentioning it, partly because i'd heard other people found it underwhelming but mainly because I don't like sounding like a cheapskate. Eventually I got a grip and asked, we agreed i'd have it instead of the fish dish included with the tasting menu.
I'm so glad that I did! It was easily one of the most enjoyable plates of food i've had for a long time. I'm a huge lobster fan and I can't remember ever eating a better lobster dish.
I suppose I can understand people who'd paid £50 for it (really!) thinking there isn't really much to it as essentially it's just a lobster tail with some apple puree and grilled fennel. However, it looks beautiful and tastes every bit as good, the combination of wonderfully poached soft, lobster tail with the char grilled, fennel and smokey, apple puree was so good. I had a huge smile on my face for every bite and was genuinely sad when it was gone.
It came with a side of linguine which the waiter had intriguingly shaved freeze dried lobster claw over to create an intensely flavoured, perfect accompaniment.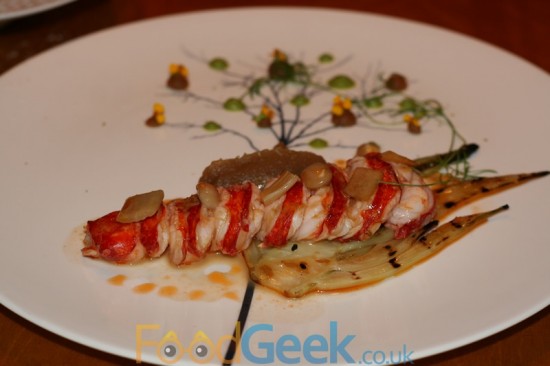 Aiden had kindly offered the lobster dish to both of us but we decided we'd like to try the regular fish dish as well. Again, it was the right decision as this was another brilliant dish which i'm glad I got to taste.
Turbot is one of my favourite fish and this was exceptional quality and beautifully cooked. Served with fermented cabbage, pickled cockles and smoked sausage it was a really clever combination of flavours unlike anything i've ever experienced before.
One dish i'd seen almost universally negative opinions on was the pork for the meat course of the tasting menu. Perhaps Aiden had too as I was pleasantly surprised to find it had already been replaced, and happier still when I loved it's replacement 'Veal Fillet, Black Figs & Lemon Gnocchi'.
The veal soft, succulent and tasted fantastic with the sweet fig and lemon sauce, the gnocchi were excellent too. It was another dish that looked like it could have come from Simon Rogan but this one was definitely worthy of the comparison.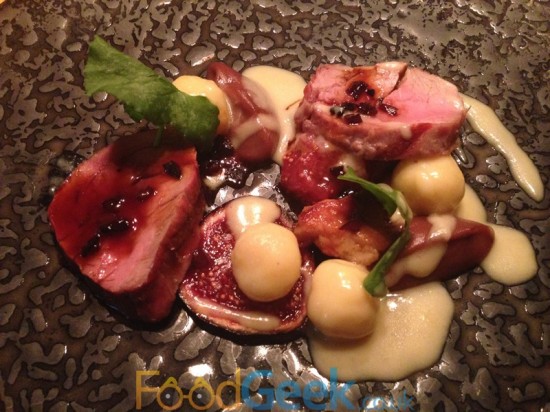 The first dessert of 'Lychee, Rose & Szechuan' was nice enough but the flavours were a little too subtle for me, i'd have liked them to stand out a bit more, particularly the szechuan which i'd never have noticed had I not known it was there.
Having not had a 'Manchester Tart' for many years i've now had 2 in almost as many weeks. I really admire the precision and beauty of the dessert and have enjoyed eating it both times but it's not a dessert that makes me really happy as some are capable of.
'Macaroons' do make me happy though, no matter how full I am. And I was very full by this point but nothing would stop me finishing them.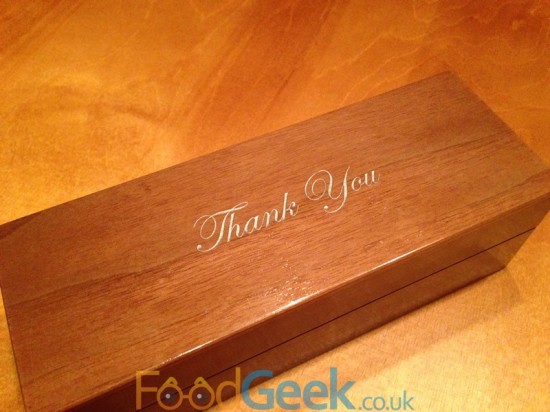 Manchester House don't just offer high end food, there is a huge cocktail menu too with some fabulous sounding creations. Despite it costing £12.50 I couldn't resist ordering one named after my favourite band 'The Stone Roses'.
Served in a Union Jack cup sat upon a bed of flowers and stones and flowing with steam from dry ice it certainly looked impressive if a little over the top. Thankfully it lived up to the presentation and was lovely to drink too. A combination of gin, elderflower, rose and apple liqueur with lemon juice, egg white and cucumber it was floral, summery and delicious.
I had a really great night at Manchester House. The food is already of a very high standard with some dishes outstanding. I'm sure it will continue to get better too. As enjoyable as eating the food was watching Aiden on the pass. He was literally running the show, on top of everything. Checking every plate, pulling trays back as something obviously wasn't 100%, constantly talking to his kitchen and the waiting staff etc.. it reminded me of watching Gordon Ramsay intensely chasing his 3rd Michelin star on the documentary 'Boiling Point' from 1998. Gordon got his third star and with Aiden clearly so motivated there's every chance he'll get his too.
I've read reports that the service doesn't match the standard of food but all I can say is that it was very good both during the press lunch and this occasion too. It was fairly speedy and very efficient overall, we were served by the same waiter for most of the night who was totally on the ball. He clearly knew the menu inside out and happily answered all my questions.
So would I return? Yes, happily. I'm not sure when though as it's definitely pricey and there are always so many new places I want to try before returning, especially at these prices. An exception is The French where I have already eaten 3 times in the last 6 months and am desperate to get back to soon. I can't imagine that i'll have been back to Manchester House twice in the next 6 months, at least probably not for the tasting menu but the set lunch menu appears to be very good value actually.
That's not to say it isn't a great place, I've really enjoyed it twice and i'm pretty sure i'm not really their main target audience.
Date of Visit: 27.10.2013
Follow @FoodGeekUK