Waking up in a Macclesfield hotel with a slight hangover after a fantastic night – but perhaps one too many glasses of wine – at 'The Lord Clyde', there was only one thing on my mind; A breakfast burrito. Specifically a Luck Lust Liquor & Burn breakfast burrito. So you can imagine my horror when I learned that they no longer serve breakfast!
Turning to Twitter for advice I was flooded with suggestions, I then spent literally hours, and half an iPad battery checking them out and being rather indecisive. I genuinely didn't realise how many great breakfast options there are in Manchester, my restaurant to-do list doubled on the spot.
Eventually I settled on Home Sweet Home after hearing that their menu contains a Breakfast Burrito, very similar to the one I was craving from Luck Lust Liquor & Burn! If only i'd known that in the first place, i'd have saved myself a lot of time (and battery).
The drive from Macclesfield took longer than expected and after wasting so long deciding we arrived at Home Sweet Home in the Northern Quarter just after 12pm. My heart sank when I saw the breakfast menu was only available until 12pm! Thankfully after a short sulk I noticed the 'Breakfast Burrito' was also on the regular menu, phew.
Home Sweet Home is run by the same people as Almost Famous and Luck Lust Liquor & Burn, all their places have fun, quirky interiors and here was no different. Shelves are piled high with books, walls decorated with posters and pictures frames and there are lots of cushions. It did actually feel very homely, which i'm sure was the intention.
It was really busy but the tables were turning over pretty quickly, within 15 minutes we were sat down with a coffee deciding what else to order with my burrito.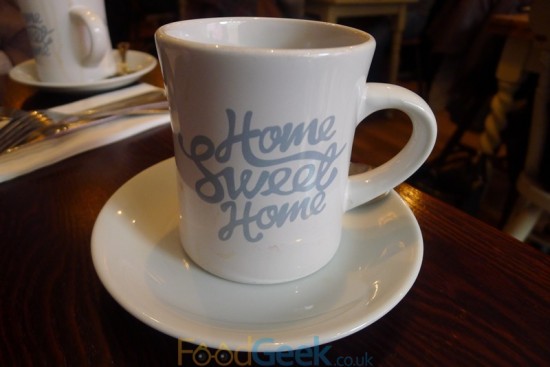 We went for a 'Sun Devil Scrambler'; fried potatoes, onions and peppers with chorizo, scrambled egg, cheese, sour cream and spicy taco sauce. This is exactly what you need to soak up the previous nights alcohol, a brilliant combination of textures and flavours. The crispy potatoes combined with the sauces and soft scrambled egg were a delight, the veg and herbs added a lovely freshness and there was even a nice kick from the sauces.
The 'Cheeseburger Toastie' is a simple but genius creation. All the flavours of a proper burger; beef patty, tomato, onion, cheese and burger sauce crammed into a much more comforting toastie instead of a bun.
Continuing with the comforting theme, 'Jalapeño Mac 'N' Cheese' was essentially a mug of liquid cheese with penne pasta and jalapeños floating around inside. It was by far the cheesiest Mac 'N' Cheese i'd ever eaten, I dread to think how many calories it contained but I loved every single mouthful, especially those with jalapeños.
Finally, the 'Breakfast Burrito'. It was totally worth making the trip for. It actually contained most of the same ingredients as the hash; scrambled egg, chorizo and cheese with the addition of beans. It tasted just as good if not better but was certainly easier to eat in convenient, hand held wrap form.
I really enjoyed Home Sweet Home and feel bad for ignoring it for so long. The food is good quality, exciting and incredibly comforting. It was busy but service was speedy and friendly and it's great value too.
I wasn't quite up for cake on this occasion but i'll definitely be going back one afternoon for coffee and cakes as they looked unbelievably good.
Date of visit: 01.02.2014
Follow @FoodGeekUK