It's a few years ago now, but I've spent many Friday nights in warehouse like buildings with DJs playing dance music. Back then it was all about the music but yesterday at the inaugural Friday Food Night I got that same buzz I used to from clubbing only this time it was all about the food.
I'd been looking forward to 'Friday Food Fight' since first hearing about the event described by some as 'food raves' several weeks ago. The excitement built as more and more of my favourite Manchester restaurants got involved and I was lucky enough to attend the 'Friday Food Fight Cook Off' where street food startups competed for a place at the event.
Besides a couple of teething problems at the start the first night lived up to expectations and was a huge success.
Things almost went disastrously wrong though when a power issue meant the growing queue of people outside weren't allowed in at the 5pm start time. Made worse by the fact that it was originally a 5:30pm start but ticket holders had been emailed only hours before and told to turn up from 5pm. A lack of communication on the outside and in my case seriously growing hunger led to a long line of disgruntled people. But just as I was considering heading up the road to Almost Famous we were finally able to enter.
It was my first time at Upper Campfield Market on Deansgate, a building i've walked past countless times yet never even wondered what was inside. I'm guessing it doesn't usually look like it did last night though. With a bar to the left, DJ booth to the right and straight ahead ten of Manchester's best restaurants and street food vendors cooking up a storm.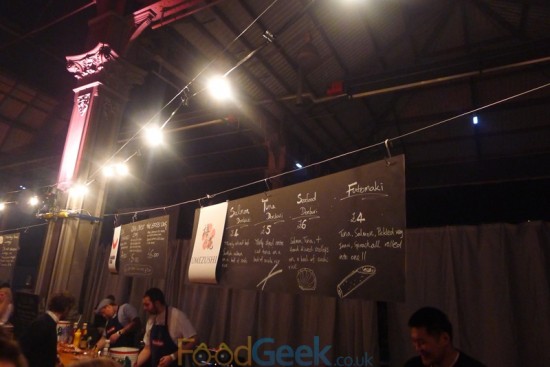 I was always heading straight for Honest Crust but the decision was made even easier as they were one of the few vendors not to be effected by the power issues, praise the lord for wood fire ovens! 90 seconds later I was enjoying a stunning 'Atomica' pizza; their now famous Napoli style sourdough base topped simply with tomatoes, mozzarella and spicy Italian sausage, N'duja. These pizzas put most restaurants in the city to shame, i'm confident nobody ate a better pizza in Manchester last night, no matter what they paid, mine was £6!
Next some lovely Japanese food from 'Umezushi'. The 'Seafood Donburi' was good; a bowl of sushi rice topped with tuna, salmon and scallop sashimi but the 'Futomaki' was even better. The sushi rolls containing tuna, salmon and pickled vegetables were absolutely delicious and had cleverly been left whole, almost like a tortilla wrap rather than being sliced into regular sushi pieces.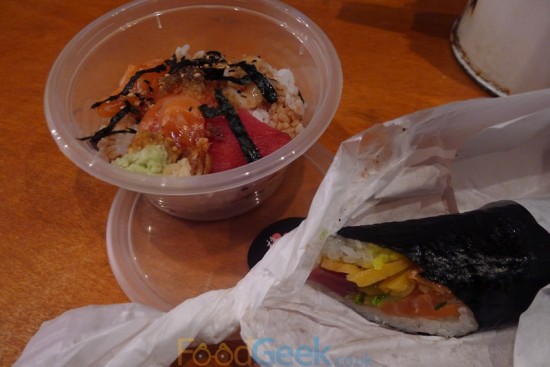 I've been a fan of Columbian street food since first tasting it at Levenshulme Market last November from friends and fellow bloggers Bailey & Jules (who is half Columbian) and their Arepa!Arepa!Arepa! stall. Since then i've sampled many different dishes both on the streets and at their Columbian Classics supper club.
Their Friday Food Fight offering included: 'Sobrebarriga', steak slow cooked in ale & tomato and 'Pollo Classico', shredded chicken, salsa and chunky guacamole. Both stuffed inside a freshly cooked arepa and both incredibly tasty. I particularly liked the Pollo Classico but then anything that comes with guacamole is always going to be a winner for me. 

For their third dish they'd roped in fried chicken expert Jamie from McrFoodies to help. A wise move as the 'Pollo Frisby' was excellent. Super juicy deep fried chicken in a crispy cumin spiced batter, drizzled with honey and lime.
Besides an Honest Crust pizza, the food i'd been looking forward to eating the most was Jamaican street food from 'Love From The Streets', headed up by Manchester chef Jason Latham. I'd loved his curry and jerk chicken at the Friday Food Fight Cook Off where he'd secured his place and it was just as good the second time around. Everybody seemed to agree as he had a continuous queue for the entire night!
The 'Street Box' containing barbecued Jerk chicken, delicious beef & oxtail curry with dirty rice, a beef patty and slaw was a brilliant combination of flavours and a steal at just £6! There was plenty of flavour in the food already but for chilli heads like me Jason's homemade sauces added an intense fiery heat.
His 'Jerk Chicken Sandwich' contained spicy, tender chicken breasts and zingy slaw stuffed inside a soft white roll.
I also ate amazing 'Black Pudding Wontons' from Manchester Chef Andrew Nutter and Sticky Lime Wings from one of my favourite restaurants SoLita, who were also serving a £5 junior version of their legendary Big Manc burger.
Unfortunately, even my appetite didn't allow me to visit all 10 stalls, I had to skip Lucha Libre, Diamond Dogs and Piggy Smalls. I was planning on visiting 'Sugar Rush Gals' (aka Penelope's Kitchen) for dessert after hearing they had gorgeous cheesecakes but unfortunately ended up rushing off before I had chance.
The only negatives of an otherwise brilliant night were the drinks. I refuse to pay £7 for pre-mixed cocktails served in plastic cups and the beers are a little pricey at £4.50/£5 a pint too, particularly as they're also served in plastic cups. They are at least very good beers though, far better than you'd ever usually find at these sort of events. A lovely German wheat beer, Hopf Helle Weisse, decent German lager Paulaner and my current favourite beer, Long Hammer IPA by American brewers Red Hook.
Overall I had loads of fun and think it's great for Manchester. Considering it was the first event and a pretty big one at that it seemed very well organised. I might not make it to all 11 remaining nights but will definitely be attending several more, next week sees the likes of Reds True BBQ and Yang Sing providing the food which will be very interesting.
Date of visit: 07.03.2014
Follow @FoodGeekUK