Nobody divides the opinion of Manchester's foodies quite like Living Ventures. They're an obvious target due to their huge success and I guess it's easy to hate them as many bloggers seem to, I've been guilty of it myself at times. But while many of their places are clearly not for me I can't help but admire their relentlessness and also the fact that they know the target market for each of their restaurants and unashamedly cater for them. There are a few gems amongst the group too, particularly Manchester House which is second only to Simon Rogan at The French for best food in the city.
I was recently invited to preview their latest place 'The Botanist', a 'pub' with a similar concept to my other favourite LV joint, The Oast House. Situated on Deansgate in a block with little in the way of quality competition; neighbours include Red Hot World Buffet, La Tasca and Bella Italia.
As the name suggests The Botanist has a bit of a garden vibe going on, the decor is slightly crazy but I really liked it. From the giant pot plants in the light and open front through to the dining area with whitewashed brick walls, a wooden shed like roof and various gardening props.
On the way to my seat my attention was drawn towards the four casks behind the bar filled with local real ales. Like sister pub The Oast House they offer beer flights so you can sample them. I found it a little annoying that the flights contain only three beers, choosing which to leave out proved as difficult as choosing a favourite child. A minor complaint though, it's still a great thing to have and pretty good value too.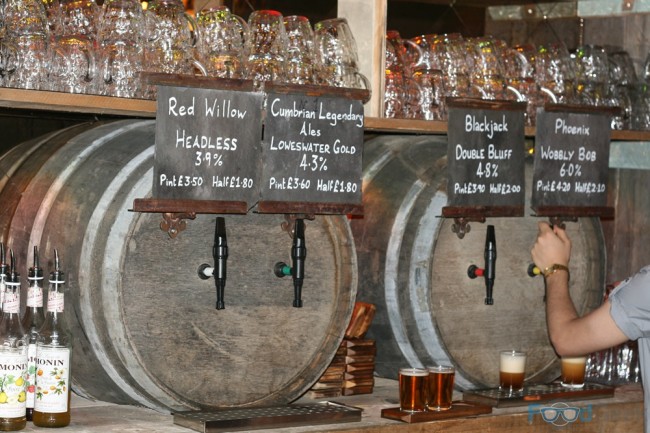 There's a menu of 50 of so very decent bottled beers too, including some of my favourites from Beavertown and Flying Dog. Being a fan of their white ale I was pleased to find the rather good 'Toasted Porter' from Icelandic brewer Einstok that i'd not had before.
The food menu didn't excite me as much, it's a somewhat random mix of deli boards, hanging kebabs, barbecued meat and home comforts including pies and fish & chips.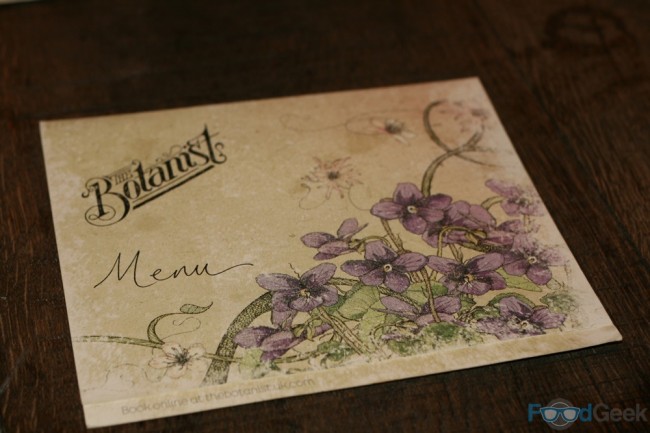 We got off to a great start though by way of decent olives and very good 'Pork Crackling'. I wasn't particularly bothered by the gimmicky wheelbarrow presentation, i'm sure many will love it but I was more impressed with the crackling itself which was excellent. Still warm, with just the right amount of fat and a fantastic crunch, tossed with chilli and spring onion and served with a sweet apple sauce for dipping.
My 'Scotch Egg' was good, nothing groundbreaking but perfectly fine, with a nice crispy exterior and a lovely runny yolk inside. Served with salad and piccalilli. An ideal accompaniment for the ales.
For my main course I went for 'Half A Chicken' from the Rotisserie, i'd eyed them up whilst having a look around earlier. It arrived in a wooden crate which despite my general disapproval of gimmicks/props I actually thought looked quite good. Unfortunately it's also quite impractical to eat out of.
The chicken was excellent though, full of flavour and seriously juicy. When you get rotisserie chicken right it's a simple but beautiful thing. It comes with decent chips and a choice of BBQ or 'Hot Piri Piri' sauce, I went for the Piri Piri but felt it could do with a lot more heat. Overall it was a good, simple dish, again perfect with my beers.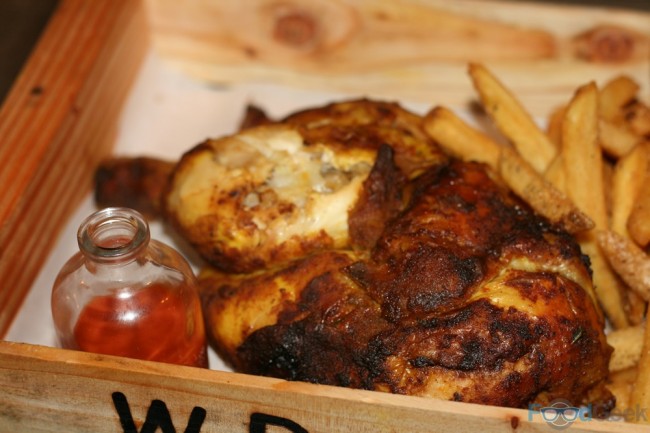 Since nobody else on the table wanted dessert  I reluctantly declined so as not to look as greedy as I really am. I'd given up trying to hide my alcoholism though, while they sensibly drank coffee I sampled a cocktail from the extensive list. Choosing was difficult as they all sounded so inviting, I tried the 'Apple & Rosemary Sling' in the end, an intriguing combination of gin & tequila with apple juice, lime and rosemary. It was really good, one of the most interesting drinks i've had for a long time, the tequila and rosemary were the prominent flavours and they really worked well together. Although I did love the beers earlier I couldn't help wishing i'd tried a couple more cocktails.
Overall I really enjoyed The Botanist even though I don't think it's particularly aimed at me. I can't say the food really excited me and I doubt i'd go out of my way to return purely to eat there but it's a lovely place with a unique look and feel. I'll definitely go back to try more cocktails and beers from the impressive selections. If I happen to be hungry while I'm there i'd be more than happy to eat too, while the food isn't mind blowing it's a good standard and keenly priced. I certainly wouldn't be rushing next door to Las Iguanas or any of their other mediocre neighbours.
Date of visit: 06.08.2014
Disclaimer: This was a preview before the restaurant was open. As such I didn't pay for my food or drinks. I wasn't expected to write anything at all, let alone positive but chose to share an honest account of my experience.
Follow @FoodGeekUK