The Solita Christmas burger is now a firmly established Food Geek Christmas tradition.
I left it late this year but made it to the original Northern Quarter restaurant on Christmas Eve Eve Eve to get my festive fix for the fourth consecutive year.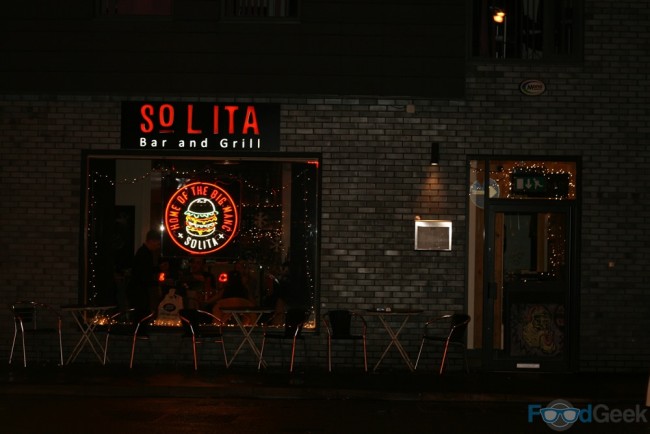 The newly refurbished basement is looking great, modelled on the impressive designs of the newer Didsbury & Prestwich restaurants; complete with Stanley Chow artwork, graffiti and fancy new neon lights.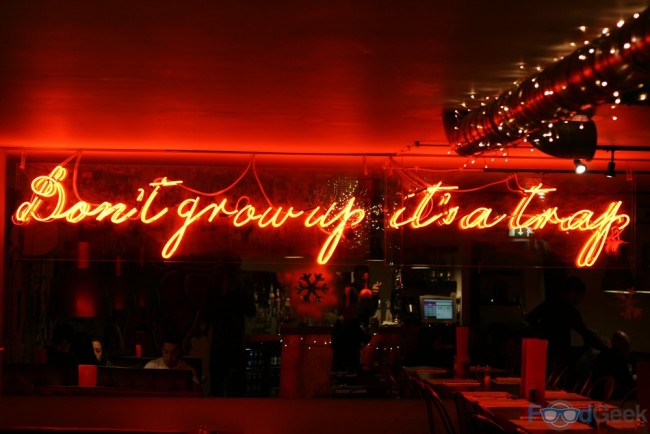 We started, as ever, with 'Bacon Fat Popcorn' and 'Olives & Things'.
Christmas or not, I can't go to Solita and not order something new on the menu.
Okay, classic Hawaiian dish 'Tuna Poke' might not be overly festive but the spiced raw tuna salad was lovely. A fresh and zingy mix of chilli, spring onion, pine nuts and sesame seeds added loads of interesting textures and flavours to the high-quality tuna, no two mouthfuls were the same.
I wanted to try the amazing sounding and looking 'Salt Beef Croquettes' too, but sadly they'd sold out.
So I settled for an old favourite, 'Cheeseburger Spring Rolls'.
Then it was time for the main event.
An already impressively large burger is made higher still with a trio of Christmas dinner staples.
The seeded brioche bun contains a seven-ounce chuck steak patty and is stuffed (pun intended) with buttermilk fried turkey, roast gammon, Monterey Jack cheese, cranberry and port sauce and deep fried sprouts. Before being drenched in rich turkey gravy.
Oh, and it's topped with that skewer containing a: goose fat roast potato, stuffing ball and now legendary candied pig in blanket.
Yeah, it's quite literally Christmas in a bun.
It's also served with a shot of Mars Bar Eggnog. It basically tastes like rum and brandy-spiked Mars Bar milkshake.
It's so good that a shot just isn't enough. After seeing the disappointment on our faces when we tried ordering full glasses only to be told it's not available this year, the waiter took pity on us and sold us one anyway. Goodwill and all that.
We also tried the 'Ahi Tuna Burger'
The tasty tuna patty is topped with avocado, fantastic tempura fried onions and an eye-watering wasabi mayo.
I had a great time at Solita, despite it being a couple of days before Christmas and fairly busy service was the best I've ever experienced.
Both of the tuna dishes were excellent, it's nice to see some good non-meat options.
The star of the show was definitely the Christmas burger, though.
In my post last year I said:
"My Christmas wish for next year is that we get a combination between the last two Christmas burgers, most of last years with added deep fried sprouts and KFC gravy. That one would go global, for sure."
That's actually a pretty accurate description of this years Solita burger. So since my wish was granted I'm going to try it again.
Next year I'd like the Christmas burger to come with a pint of Mars Bar Eggnog and be served by Amy Schumer please.
Date of visit: 22.12.2015
Follow @FoodGeekUK