A few months ago whilst watching an old episode of 'Man V's Food' I was fascinated by a steamed burger that Adam Richmond tried and loved in Connecticut. I wondered whether there was anywhere in the UK offering this intriguing sounding delicacy and thanks to the power of Twitter was told that Miskins in London was the place to go. So on my recent trip I did just that.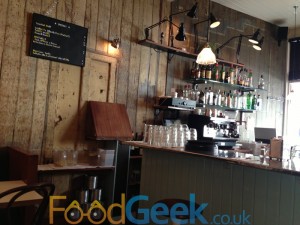 Miskins is 'a kind of Jewish deli' just around the corner from Covent Garden. It was apparently founded by Ezra Mishkin in 1931 although even their own website don't seem to know for sure. They do know that the current restaurant has only been in existence since November 2011.
Confusingly, Mishkin's food is not Kosher but the dishes are based loosely on traditional Jewish comfort food. I've no idea how steamed burgers fit into that though.
The burger, with it's 3oz patty is actually more of a slider really which you'd think would be a good thing what with it being my 3rd restaurant since arriving in London only 4 hours earlier and having a reservation for a 10+ course tasting menu at a 2 Michelin star restaurant a few hours later. However, it didn't stop me from ordering the 6oz version instead.
It was still slider sized but contained 2 patties rather than 1. These patties are steamed over onions and served in a squidgy, soft, steamed white bun simply with just the onions and slices of melting Swiss cheese. The fact that the meat, onions & cheese are steamed together really helps the flavours that seem to meld into each other. The meat was beefy, juicy and dripping with gorgeous juices but the highlight for me was actually the onions. Despite the almost translucent onions looking less appetising than when they're caramelised from being grilled they tasted amazing having taken on a deep beefy flavour from the meat.
Although it tasted great as it was I couldn't resist prising the lid off the bun and adding several of the pickles from the side as well as a good squirt of ketchup & mustard and I have to say that it made a great burger taste even better.  Now i'm just wondering why more people don't steam burgers!
Being in a 'kind of Jewish deli' and not being totally convinced how Jewish my burger really was I wanted to also try something a little more authentic. So I picked the most Jewish sounding item on the menu, 'Chicken matzo ball soup'. The limited Jewish knowledge I have somewhere at the back of my brain seemed to know that this is a staple dish and often eaten on Passover.
It didn't blow me away but it was good. A nice, clean broth with excellent flavoursome pieces of roast chicken in the bottom and a large Matzah ball which is basically a soft dumpling.
We also ordered a side of 'Pickled Radish & Chilli Slaw' which was tasty and light, not thick, gloopy and full of mayo. If it hadn't had the word chilli on the menu i'd have been perfectly happy with it but when i'm promised chilli I expect at least a little heat and I couldn't detect any which was a shame.
As well as interesting food there is a great cocktail menu and some decent beers including a great lager brewed locally down the road.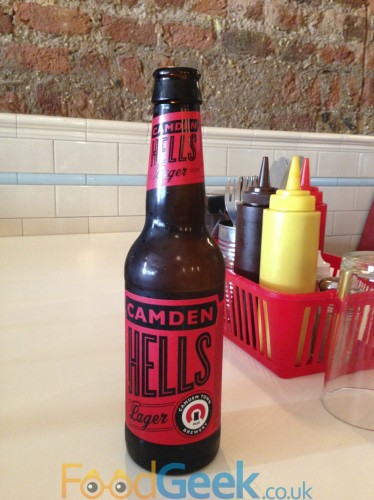 Service was good, though it was very quiet at the time. I liked the look of most of the menu and particularly the specials board. My only complaint is that on the way out we noticed a flyer on the bar promoting 3 different sliders, the steamed burger which I'd ordered as well as two others which sounded amazing: Lamb belly and smoked mackerel & beets. I'd have loved to have tried them but wasn't told about them unfortunately.
I'm still glad I saw that episode of Man Vs Food and that I made the trip to Mishkin's though.
Date Of Visit: 31.05.2013
Follow @FoodGeekUK