I love Japanese food and I love wine – particularly Italian – so what could be better than an Italian Wine Tasting night at one of my favourite Japanese restaurants? Not much I thought so despite feeling a tad delicate after the Arepa supper club the previous night I decided to go along to Umezushi and check it out.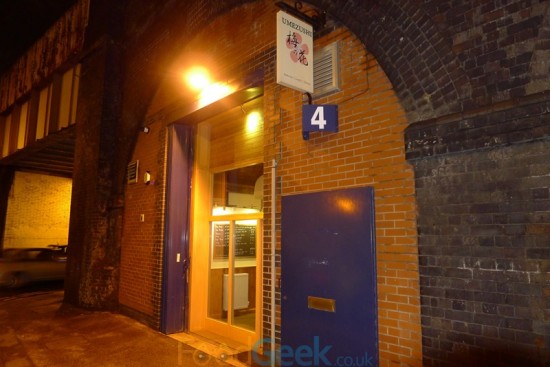 The event was a collaboration with ItalyAbroad.com who specialise in Italian food and wine made by small and passionate producers. Shortly after arriving we were served possibly the nicest Prosecco (La Farra) i've ever tasted. I expected it to be really expensive so was pleasantly surprised to learn it only costs £11-£12. Unfortunately I haven't managed to find it anywhere since but it is available to order from the ItalyAbroad website.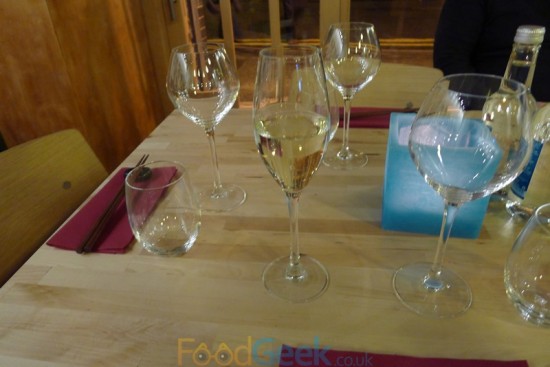 The night was hosted by Andrea from Italy Abroad, who is either Italian or VERY good at accents. His passion and knowledge of wine was immediately obvious and it sounds so much more interesting coming from such a great Italian accent. He talked to us about each wine, giving tips on how to drink and taste as well as offering tasting notes.
As much as I enjoy wine it was of course the food I was really there for, not least because we were suffering from post hangover starvation. A four course menu had been designed by the Umezushi chefs with Andrea selecting a wine to match each. The first course was a 'Pan Seared King Prawn and Scallop', perfectly cooked and beautifully presented with a lovely sweet sauce and just a hint of chilli and spice. The accompanying wine, a white from Egger-Ramer; a family run estate which has been handed down from father to son who produce wines using only native grapes. The fresh and crisp wine complimented the dish perfectly.
The second course, 'Salmon Tataki' was my favourite. A stunningly good piece of salmon with a fabulous sear on the outside but still rare on the inside. Served simply with a subtle creamy sauce. With it we received another Egger-Ramer wine, this time made with Gewurztraminer grapes which was another great match.
Main course of 'Roasted Chicken Thigh with Crispy Chicken Skin and Tomato Sauce' was served with yet another Egger-Ramer wine; this time a fruity Rose made with Lagrein grapes. The slightly bitter finish was in perfect balance with the sweet tomato sauce whilst the chicken was succulent and juicy with an incredibly crispy skin.
'Mascarpone Berry Crunch' was an enjoyable if fairly unremarkable end to the meal. There was a nice contrast between the sharp berries and sweetened, creamy mascarpone with a lovely crunch from the biscuit top. There was nothing unremarkable about the final wine though, the 'Bonarda La Moretta' by Molinelli was absolutely gorgeous. With a rich, deep fruity flavour it was without doubt the nicest red wine i've ever tasted. I can't find this anywhere else either so will definitely be putting in an order with Italy Abroad soon.
The event was a huge success; the wines were all good quality and genuinely well matched to the food which was excellent overall with a couple of outstanding dishes. My only criticism of the entire night is that the dishes were all very small, even non hungover and less greedy people were complaining about being hungry at the end. I wouldn't want to change any of the dishes as they were perfect but it would have been good to maybe serve some rice with the main course to help fill people up.
I still had a great time though, I tasted possibly the best prosecco i've ever had and definitely the best red wine as well as actually learning a thing or two as well. Not bad on a Sunday night with a hangover!
Date of visit: 26.01.2014
Follow @FoodGeekUK