There are few things that fill me with dread more than a trip to the Trafford Centre. I'm not a big shopper anyway but it's easily my least favourite place when I have to. There's not even anywhere worth eating to soften the blow. Or so I thought.
On a recent unavoidable – but thankfully rare – visit I was really struggling for inspiration at lunch time. So I turned to Twitter and to my surprise was almost unanimously told to go to Five Guys.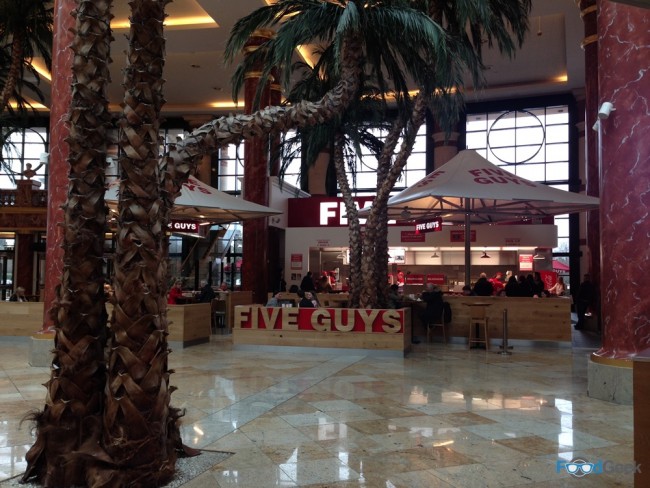 Now I know Five Guys have a fantastic reputation in America but I'd heard very mixed reviews about their UK offering. But for lack of any better options, I decided to give them a go. Also, because they let you order and pay in advance via their website or app.
It's a simple process and very slick. Choose your burger – Hamburger or Cheeseburger, with or without bacon, regular or small – then select as many toppings as you like, at no extra cost. Add fries and drinks if you like and you're done.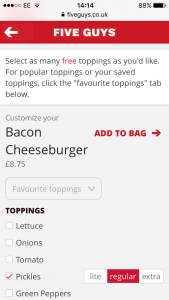 When we got to the restaurant the food was almost ready to collect. I just about had time to learn where my potatoes had come from, which is always good to know.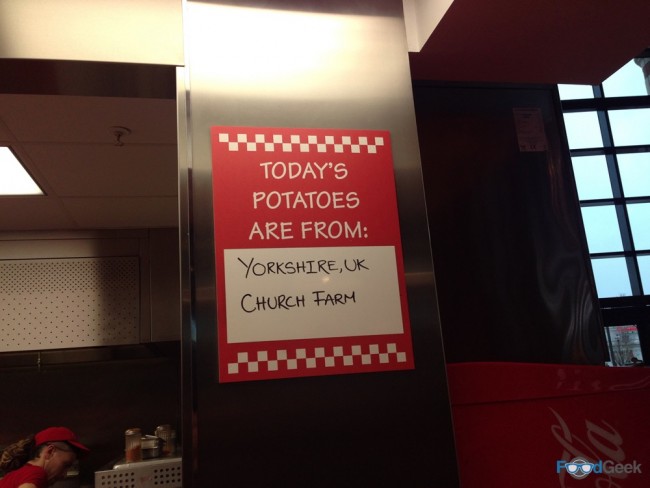 Like many fast food chains these days, the drinks are self-service. Unlike most, however, they're dispensed from a modern looking touchscreen machine that appears to be from the future.
Well, it seems fairly normal at first. You're asked to choose from around 15 drinks, regular stuff like Coke, Diet Coke, Sprite, Fanta etc.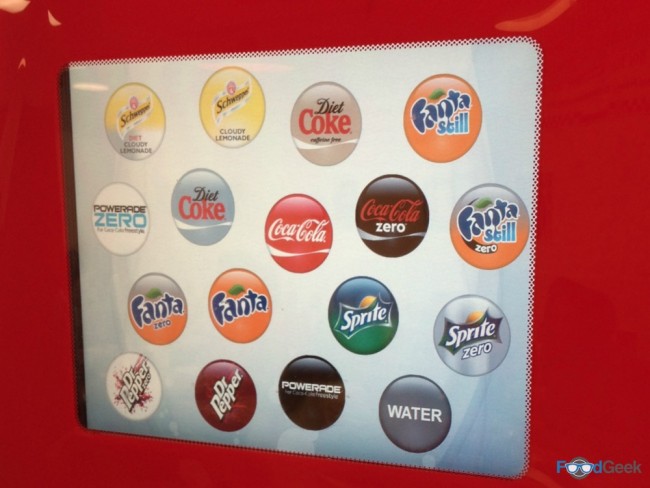 But it's after making your selection that the fun really starts.
After pressing Diet Coke I was greeted with a screen full of new options, Diet Coke with Lime, Cherry Diet Coke, Vanilla Diet Coke and several I didn't even know existed. Diet Coke with Raspberries? Orange? Who knew?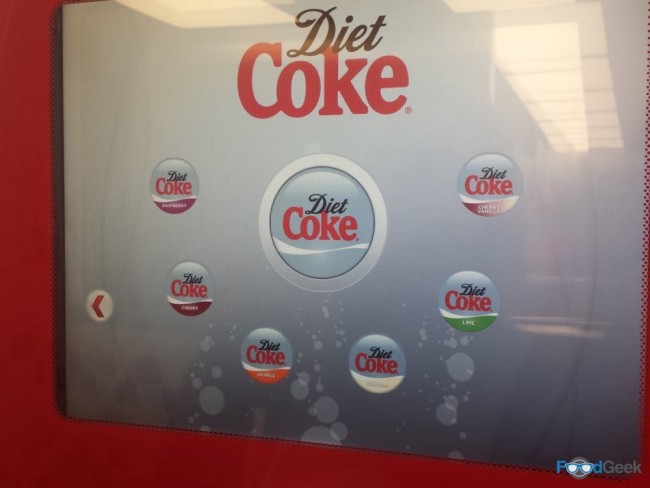 It's the same for the other drinks too, Sprite with Grape or Peach is actually a thing.
Apparently there are well over 100 drinks available! I'm ashamed to say this amused me far more than it should.
I'm not sure I should admit this either as it's probably frowned upon but I just couldn't resist mixing flavours. It turns out Diet Coke with lime and raspberry is a pretty great combination.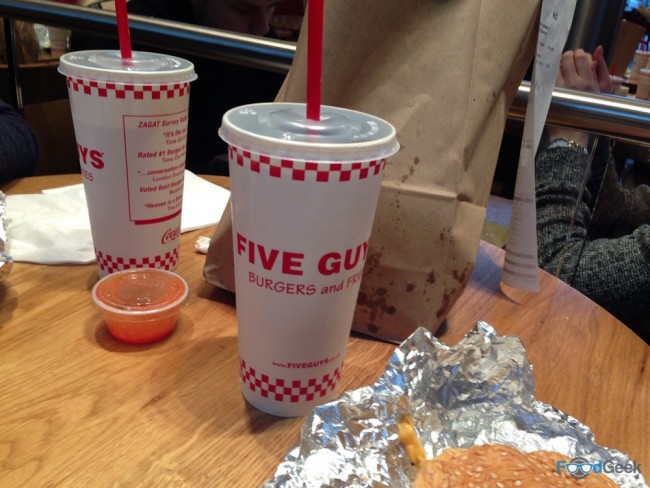 After having so much fun blending soft drinks the food had a lot to live up to.
First impressions weren't amazing. They come scrunched up in foil, unwrapping reveals a rather sorry looking squashed thing. This is definitely intentional and the Five Guys 'thing' but I can't say it does anything for me.
Thankfully they tasted much better than they looked. The squishy sesame seed bun may not be the most visually pleasing but it did a great job of soaking up the meat juices whilst still holding its shape.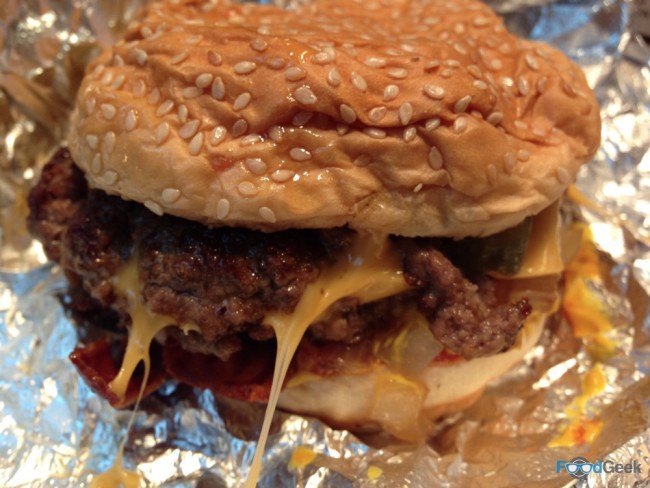 The patty was cooked medium, as I'd expected, but was still pretty juicy. It had a nice charring on the outside which gave good flavour too.
I'd kept my toppings fairly traditional: ketchup, mustard, grilled onions, jalapeños, pickles and of course, extra bacon.
While Mrs FG went for: ketchup, mustard, lettuce, pickles, tomato, grilled onions, jalapeños and bacon.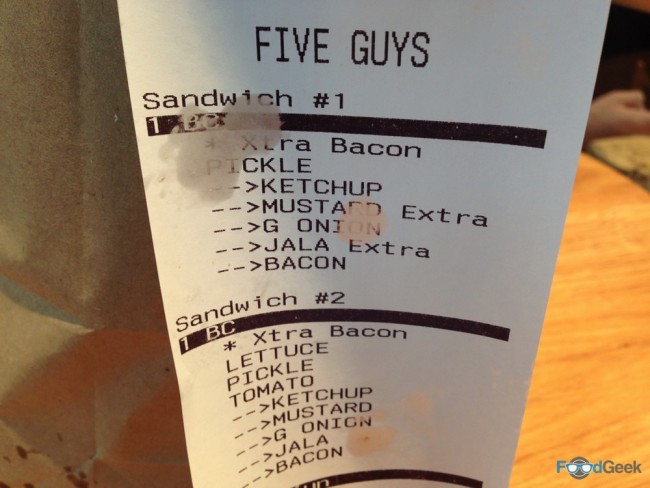 The selection of toppings worked well on both burgers. The bacon was properly crispy and the jalapeños exactly the right level of heat.
The highlight for me was the cheese, it looked cheap and plasticky, it probably was, but it just works on a burger. Super rich and melty.
All in all, it was a pretty decent burger and far exceeded my expectations.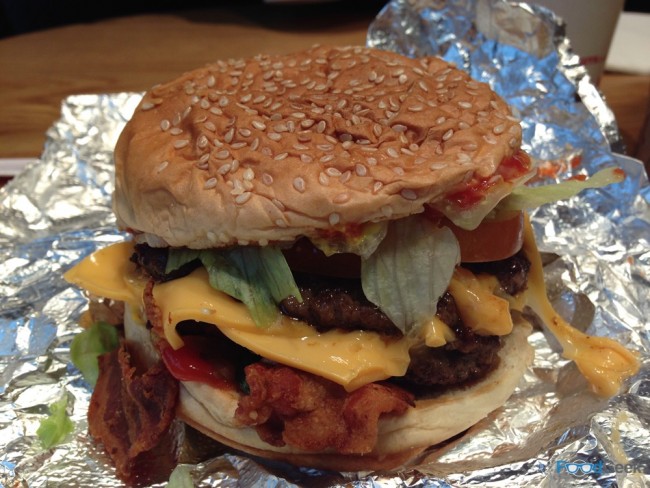 The fries were great too, probably the best I've ever had from a fast food joint and better than many restaurants can manage these days.
Skin on, hot, fresh and well seasoned. I went for the cajun option which added loads of smokey flavour and chilli heat.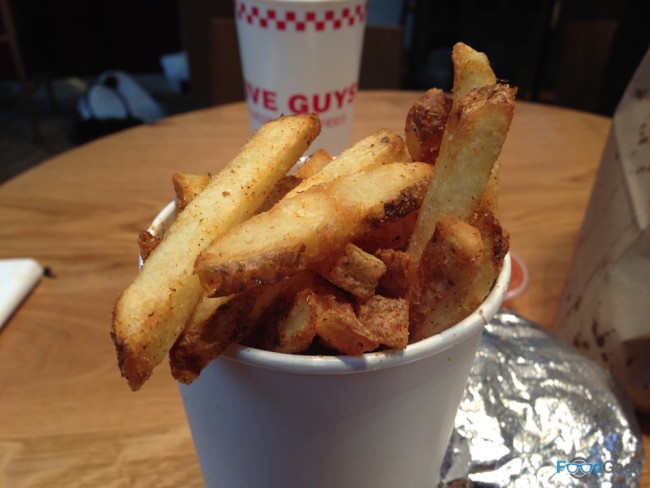 I was genuinely surprised by how much I enjoyed Five Guys.
It's not on the same level as places like Solita, Almost Famous or MeatLiquor but they're a fast food chain and not trying to compete with high-end restaurants.
Yes, it's double the price of McDonalds but it's easily more than twice as good. It's far cheaper than the fancy burger restaurants and much better than somewhere like Gourmet Burger Kitchen.
I'm not saying I'm going to rush out to eat there again but I'll definitely be less nervous about future trips to the Trafford Centre at least.
Date of visit: 08.02.2016
Follow @FoodGeekUK