I don't get out for breakfast often these days, mainly because it involves getting up and leaving the house far earlier than I'd like, especially on weekends.
But when staying close to Levenshulme last month I couldn't resist a trip to Trove Cafe + Bakery. Unfortunately, even when just around the corner I didn't make it in time for breakfast, having to settle for brunch instead.
Despite being in between breakfast and lunch time it was pretty busy when we got there, but we were lucky enough to get the last free table without having to wait.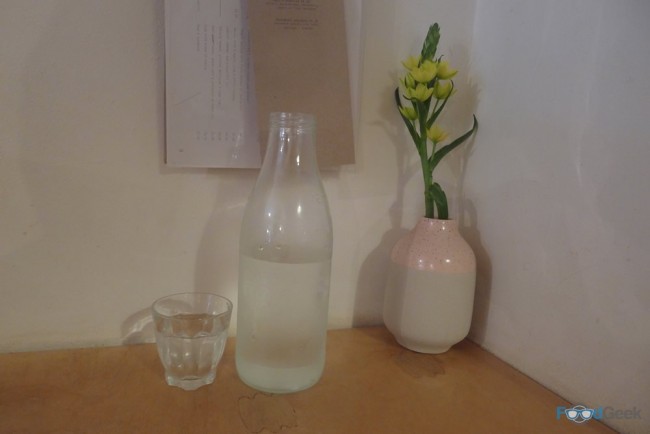 Well, we were sat down straight away but it took a long time before anybody even came to take our order and longer still for our coffee to arrive.
At least it was worth the wait.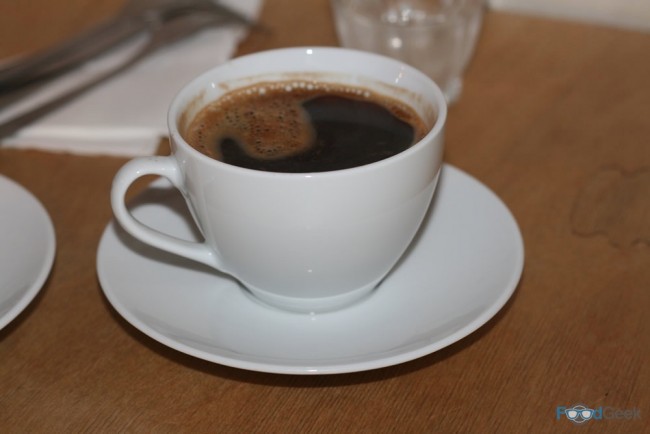 Food took forever as well. But like the coffee was also worth the wait.
I had 'Fried Egg, Chorizo & Kale', served on sourdough with harissa. Or, 'Hipster Egg on Toast' as I called it.
The bread was excellent – as you'd expect from such a highly regarded bakery. The egg was cooked perfectly and I loved the heat and spice of the harissa and addition of sesame seeds.
A simple dish but hugely enjoyable and packed with flavour.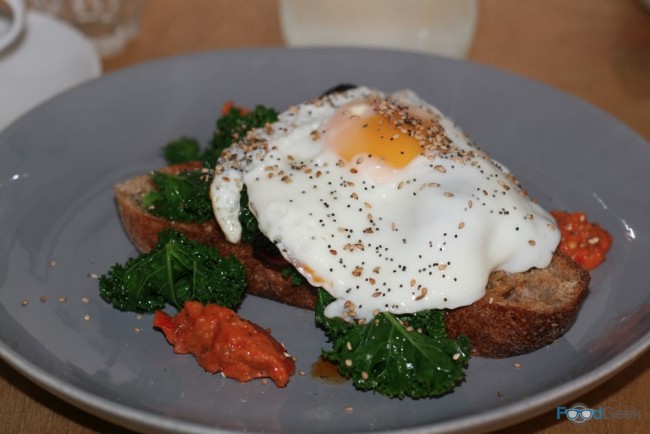 Mrs FG went for a 'Salt Beef Bagel'.
Trove's own bagel was as good as the sourdough, the beef was tender and pink inside and a perfect match for the pickles and mustard.
But perhaps the best bit was the grated horseradish and wholegrain mustard on the side.
Another very long wait ensued, first to even order dessert and then for it to arrive.
But again it was saved by the quality of food. My dessert was amazing; described as 'Buckwheat Pancakes' but actually one giant, thick pancake.
The pancake itself was pretty good – having an almost nutty flavour from the buckwheat – but the lemon meringue topping was out of this world.
Sweet, gooey, warm meringue mix drizzled with a sharp yet sweet lemon curd-like sauce, topped with crisp shards of meringue and a touch of fresh lavender.
Heaven on a plate.
Mrs FG's 'Prune & Earl Grey Scone' was fine but nowhere near as great as my pancake.
The prunes were nice and the tea flavour was there but it was a touch dry for me.
I really enjoyed everything I ate at Trove. The food is fantastic, it's good value and there was a good atmosphere in the room.
But it was let down by the service. Well, specifically the speed of service. It ended up taking over 90 minutes to get two fairly small courses which just isn't good enough for me.
They did get busier and busier but it wasn't just that, there seemed to be a serious lack of urgency.
Paying the bill involved a 20-minute wait at the counter. There were only three customers in front of me but it seriously took that long as the cashier kept disappearing. There was never a single apology for the long waits either.
It didn't totally ruin my experience and probably won't put me off returning but it's such as shame that I left with negative feelings when the food is so great.
Date of visit: 21.02.2016
Follow @FoodGeekUK