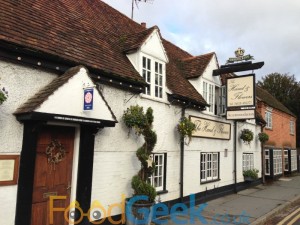 The Hand & Flowers opened in 2005 and received it's first Michelin star in under a year, in the 2012 Guide it was awarded it's second becoming the only 'pub' in the world to hold 2 Michelin stars. During that time Tom Kerridge has competed in 2 series of 'Great British Menu' winning the main course round both times and returning as a judge last year.
I was very intrigued by the 2 star status of The Hand & Flowers as I remember Tom describing himself as "not a Michelin-star kind of guy" and explaining that as the reason for opening a pub rather than a restaurant. So I wasn't quite sure what to expect when we arrived.
The first thing is that it very much looks like a pub from the outside and the inside too. A comforting, traditional country pub. With exposed brick walls, wooden beams, log fires and a prominent bar it is definitely a pub in look and feel.
However, the menu is closer to a good country restaurant than pub food in my opinion. Although it's nowhere near as high end as other 2 star places, I've never seen a pub serving 'Whole Baby Italian Truffle with Foie Gras' for example. The best way I can describe the food is very modern twists on classic British country dishes. The thing that appealed most to me about the menu is how seasonal it is, since making the reservation a couple of months ago I have watched the menu change several times to include the latest seasonal produce.
Before our starters arrived we were brought an amuse bouche of deep fried whitebait with marie rose sauce served with freshly baked sourdough bread. The whitebait looked great served in a cone made of newspaper and tasted amazing, the best I've ever eaten. So light & fresh, juicy on the inside but really crispy outside, they were gorgeous on their own but dipped in the marie rose sauce an absolute joy to eat. The bread was excellent quality too.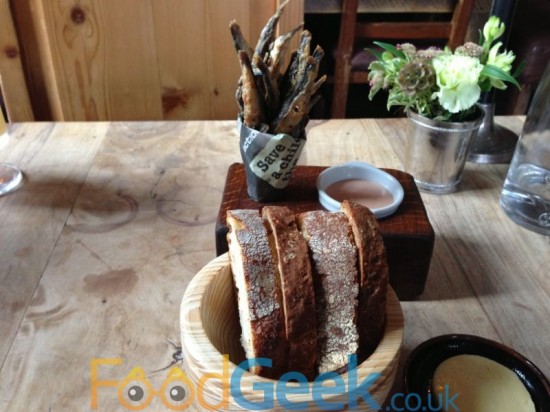 The starters arrived before we'd had chance to finish the whitebait, both the 'Crispy Pig's Head with Artichoke, Pancetta and Chickweed' and 'Pork and Mushroom Terrine with Dill, Pickles and Toasted Sourdough' looked immaculate. The pork & mushroom terrine was very rich and meaty with a deep earthiness from the mushroom jelly on top. The richness was cut through beautifully by the pickled  vegetables which were stunning, so light and zingy it was a match made in heaven and made the whole dish somehow feel quite light despite knowing very well that it wasn't. It was served with another slice of that excellent sourdough and a knob of delicious mushroom butter.
The crispy pig's head was a beautiful looking plate, perhaps I was expecting something a bit more medieval given the menu description but this was modern and elegant. The 'pigs head' was the most delicious, meaty, melt in your mouth pork encased in crispy breadcrumbs. The accompaniments all worked perfectly. My only complaint with the entire dish is that I'd have preferred the pancetta to be a little crispier. Otherwise it was a stunning dish.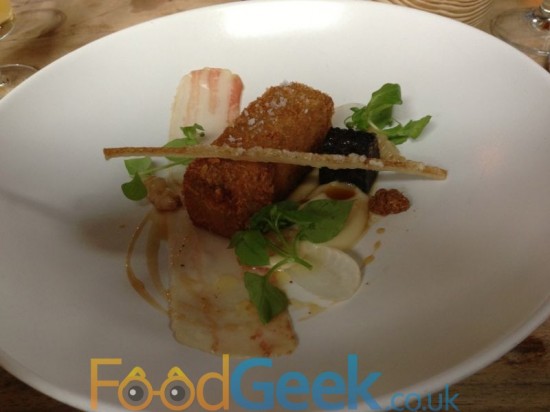 My main course of 'Lobster Baked Hake with Hand & Flowers Carrot, Pumpkin Seeds and Lardo' was another very pretty plate. The fish was cooked to perfection and being baked with lobster gave it a whole new dimension,  juicy, delicate flakes of white fish but with a deep and rich lobster flavour which I just loved. The carrot was highly seasoned, and deeply flavoured, probably cooked in some sort of stock the pumpkin seeds were accompanied by a small amount of silky smooth pumpkin puree. I'd never heard of Lardo before but it turned out to be the white film like layer on top of the fish and carrot. It's made by curing the layer of fat underneath the skin of a pig. Thankfully it tasted much better than it sounds, although it is very salty, I thought far too salty when I tasted it on it's own but it actually worked brilliantly when eaten together with the other elements of the dish. I can't think of a more interesting fish dish I've eaten in a long time.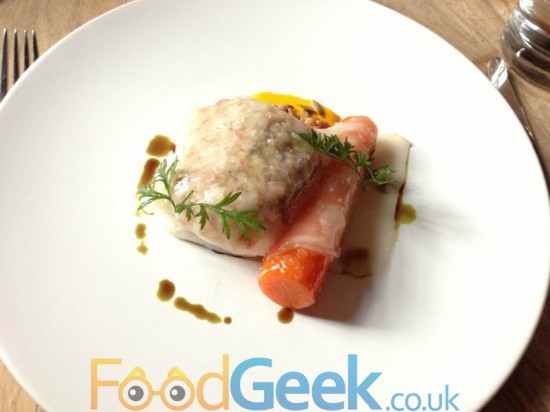 Mrs FoodGeek was very conscious of our upcoming trip to The Fat Duck (only about 5 hours away by this point) so she opted for another starter rather than a main course. She chose the 'Moules Marinières with Warm Stout and Brown Bread'. She was disappointed to find that the mussels were not served in their shells, whilst I agree it takes away a bit of the fun it's hardly surprising in such an establishment and especially considering that they were served in a thick and creamy warm stout sauce that you really wouldn't want to keep sticking your hands into. It was well worth sticking your face into though, the sauce was really tasty. I'm not particularly a stout fan but this was delicious and combined with the mussels and cute mini loaf of bread made for another winning dish.
We ordered a side of 'Buttered Brussel Tops', the leaves from the top of brussel sprouts that everybody else throws away. They arrived in a nice copper pan, drenched in butter and tasting delicious. I've no idea why they aren't used more often.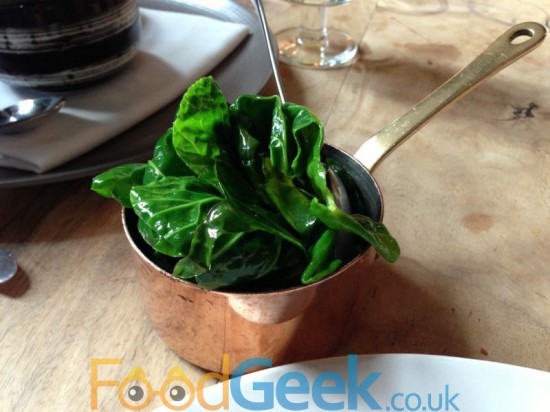 Of the 7 or 8 desserts available I really wanted at least 5 or 6 of them. We really struggled to pick 2 between us. So despite already being quite full and an impending reservation at The Fat Duck we decided to share 3 between us.
First up was the 'Tonka Bean Panna Cotta, with Poached Plums, Ginger Wine Jelly and Plum Sorbet'. I'd never tasted Tonka Bean before and to be honest I'm still none the wiser as to how it really tastes as it was so delicately used. It was a very good panna cotta but I always feel it's a bit of a cop out serving it in a dish, I prefer to see it wobble. I also felt that although all of the accompaniments were good individually there were a few too many, the honeycomb in particular was quite overpowering. Still a very enjoyable dessert though.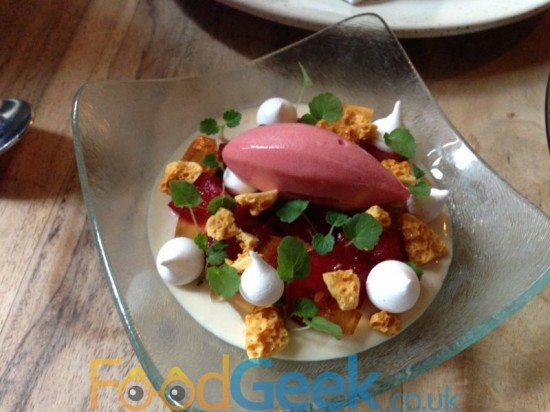 As was the 'Warm Sesame Pudding with Green Tea Sorbet, Crème Fraîche and Maple' which I have to say looked fantastic too. This was a much more careful balance of flavours and they all complimented each other much better than the previous dish in my opinion. The sesame pudding was soft and not as sweet as I expected it to be, the sweetness came from the brandy snap like tubed tuile – although this was filled with slightly tangy crème fraîche and the green tea sorbet added freshness. It was a really interesting combination of textures as well as flavour.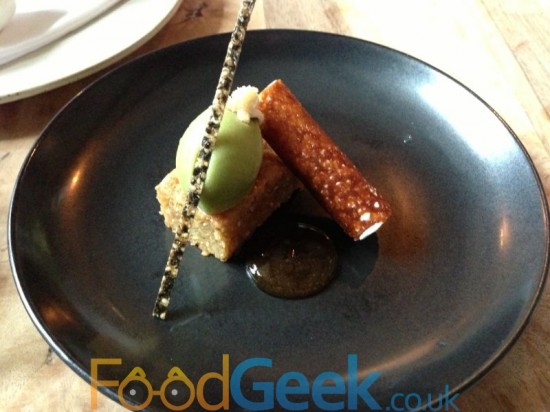 The final dessert was by far the best, we were warned that there would be a 20 minute wait for the 'Raspberry Soufflé with Buttermilk Sorbet and Toasted Oat Cream' as they're cooked to order but after seeing and eating it I would have happily waited 10 times longer for it. It looked stunning, perfectly risen with a completely flat top. Breaking into it was a joy, steamy raspberry flavour escaped and a gorgeous light and fluffy inner was revealed. The phrase 'as light as a feather' could have been created for this dish. The toasted oat cream added an earthy note and the buttermilk sorbet was refreshing and balanced perfectly the sweetness of the soufflé. A truly outstanding dessert.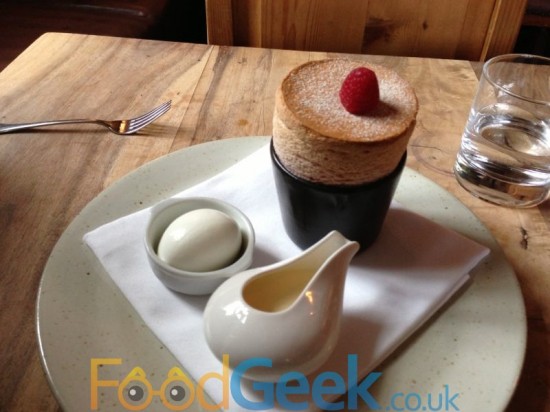 I really enjoyed my meal at The Hand & Flowers and would definitely go back. The food is mostly excellent and the service was very good but in an unfussy and understated way.
My only problem is with it's two star rating which I just can't agree with. I assume that Michelin are recognising it as outstanding in it's own field and compared to other pubs of course it is. But the rating puts it level with Noma, Sat Bains, L'Encluume and other prestigious restaurants like Michel Roux Jnr's 'Le Gavroche' or Raymond Blanc's 'Le Manoir'. I find this very confusing and must surely increase peoples expectations unnecessarily. That's not Tom's fault and he will no doubt continue to do what he is doing and do it well.
Date Of Visit: 28.11.2012