Certain names just belong together; Romeo & Juliet, Lennon & McCartney or Batman & Robin for example. The latest addition to that list is Mughli & Clyde after not only the highlight of my year so far but quite possibly one of my favourite ever nights out.
I try not to set my expectations too high for fear of disappointment, but it's difficult when your favourite Indian restaurant announces a collaboration with one of the most exciting chefs in the North West. I've loved Mughli for almost a year now and don't need much of an excuse to eat there, i'm also a huge fan of Ernst Van Zyl after first tasting his food early last year; a fantastic bespoke tasting menu at Etrop Grange and more recently at his own gastropub The Lord Clyde.
He has a unique style; beautiful and modern with fascinating, often unusual flavour combinations so I couldn't wait to see what he'd do with one of my favourite cuisines. I was expecting great things but it somehow far exceeded my expectations.
The one off event was held at Mughli's Rusholme restaurant which was closed to other guests for the night with only Ernst's specially created 7 course menu available.
Ernst is famous for his sourdough loaves so it was great to start the meal with a clever twist on them; 'Sourdough Tandoori Naan' served with a 'Kulcha' butter whipped with coriander stalks & red onions. Both the bread and buttery dip were excellent and really set the tone for the evening. 
Just like at The Lord Clyde the menu was less than descriptive, with the first course described simply as 'Onion Bhaji'. In fact it turned out to be an onion meringue sat on a shallot purée with cucumber ash cream, coriander gel, pickled onion and garlic powder. This type of dish often divides people and Ernst seems quite fond of them, personally I don't generally like 'deconstructing' classics and wouldn't have called this an 'Onion Bhaji', but then again, I don't really care what food is called when it tastes this good.
It's hard to pick favourite dishes from such a brilliant night but 'Gunpowder Scallop' is up there. A perfectly crisp samosa filled with beautiful, lightly spiced scallop would've been a worthy dish in it's own right. But sat beside it was a stunning scallop tartare, served simply with lime, mint and pomegranate it was an exquisite combination of flavours; clean, fresh and zingy.
Next, another dish with a title that barely reflects what was on our plates. 'Mixed Vegetables' was a work of genius, an intricate salad of mixed vegetables, immaculately presented (all five plates on our table looked identical) and tasting even better than it looked. Every single element belonged on the plate and worked in perfect harmony with each other, held together by a stunningly tasty spiced aubergine purée and finished with a tamarind & lime drizzle. I think this was my dish of the night, in fact I think it may end up being my dish of the year. It reminded me of both the 'Pickled Vegetables' dish at Noma and Simon Rogan's 'Early Spring Offering' at The French, two fantastic dishes but I preferred this one.
'Butter Chicken' is one of the few 'Medium' curries i'll eat as although it's doesn't usually have enough heat for my taste it more than makes up for it in flavour. This refined version featured a generous piece of juicy chicken, with grilled courgettes, fresh spinach and a delicious butter chicken sauce with a really good kick that i'd happily eat as a regular curry.
Although I hadn't tried it as it was removed from the regular Mughli menu shortly before my first visit I knew 'Chukkander Gosht' to be a brightly coloured lamb & beetroot curry so was really looking forward to this dish. Helped by the fact that 'Takra Daal' is one of my all time favourite Indian dishes, one that I cook often at home. This was another winner, the wonderfully rare rump of lamb had a charred exterior and deep cumin flavour, served with slices of yellow beetroot, beetroot purée, beetroot chana dahl and a three dahl purée!
The only dish that didn't blow me away on the night was 'Rhubarb & Tea'. There was absolutely nothing wrong with it, just for me it didn't quite reach the heights of the others. I'm a huge rhubarb fan but found the flavour of the masala chai poached rhubarb a bit too subtle. The cardamom panna cotta was luxurious and creamy but also didn't pack a punch like all the other dishes. Nevertheless, it was perfectly enjoyable, especially as a first dessert and we all happily cleared our plates in just a few minutes.
The final dessert, 'Ananas Crumble' ensured that we finished on a high. An intriguing combination of flavours and textures; gilled pineapple with mace, fennel & pineapple chutney, black pepper crumble, white chocolate powder & creamy Indian rabdi. Every mouthful was different and more interesting than the last, a clever, very tasty plate of food and a fitting end to an exceptional meal.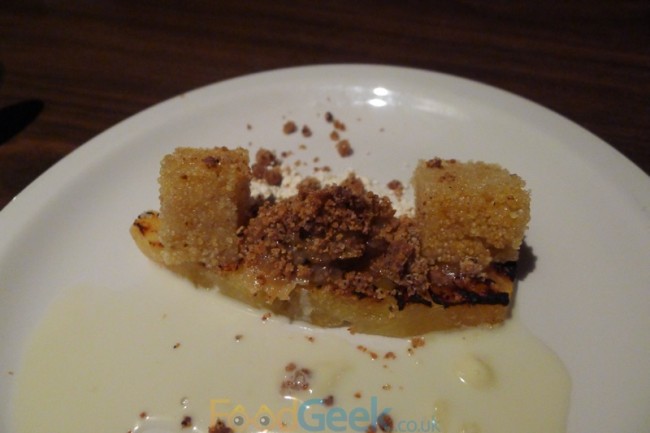 There was a wine pairing menu designed to complement each dish provided by 'Hallgarten Druitt & Novum Wines' which looked and sounded great. However, being a Monday night we sensibly but reluctantly opted against it, deciding we'd 'just have a couple of beers' instead. Unfortunately our being sensible lasted around 7 minutes and went completely out of the window when we saw the cocktail menu. Monday or not there was no way we were going to miss specially created cocktails like 'Anari' containing Indian gin, cointreau, pomegranate and mint or 'Mysore Martini' which combines a shot of espresso with vodka, tia maria, chocolate syrup and green chilli! Both of which were lovely but my favourites were the 'Masala Bhang', Bombay Sapphire gin and Conitreau mixed with Masala Chai and the 'Silver Sayb', spiced rum with apple juice, ginger ale and butter crumble!
I don't have a good enough vocabulary to put in to words exactly how much I enjoyed the Mughli and Clyde collaboration, it was just very very special. It must have been quite a challenge for Ernst to work with flavours and ingredients that he's unfamiliar with, staying true to the roots of Mughlai cuisine yet still manage to create dishes in his own modern style which looked and more importantly tasted so good.
Although it's only March, I know that many of these dishes are going to remain highlights of my year. It was fantastic value at just £45 for all 7 courses, the same price as the tasting menu at The Lord Clyde, if you haven't tried Ernst's food yet I strongly recommend that you do, it's well worth the trip to beautiful Kerridge. The same goes for Mughli, although there doesn't seem to be many people left who haven't been and Rusholme is not quite so beautiful.
Date of visit: 03.03.2014
Follow @FoodGeekUK
Review Overview
Summary : Stunning collaboration, a major contender for night of the year, already!